Thu., July 11, 2013, 5:22 p.m.
Simple Mind: I Don't Get Vandalism
Vandalism, destruction, sabotage, defacement. I just don't get it. What do people get out of destroying things?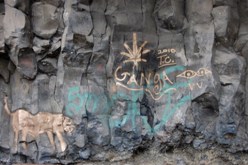 Even if it is their own, which of course is rare. What enjoyment does one get out of sabotaging defacing things? When someone is mad at another, and wants to hurt them. Then I can partly understand. I don't like it, I think is a low bar way to get back at someone.. but it makes slight sense.But for the life of me, I don't understand the destruction of children playground equipment. The city of Kootenai, was generously given a large playground equipment for young children. Slides, swings, climbing area, and etc. Second day someone broke off the flag above and ripped off the steering wheel, as it was a pirate ship theme. Now the roof is off/From A Simple Mind. More here. (Lewiston Tribune file photo: In this Feb. 22, 2010 photo, graffiti is seen over ancient Indian pictographs at the Red Elk Rock Shelter south of Hells Gate State Park, in Lewiston)
Question: Can anyone explain the thrill of vandalism, to us law-abiding citizens?
---
---