Thu., July 18, 2013, 1:11 p.m.
GONI Review: Bacon! Bacon! Bacon!
"Bacon bacon bacon! It's meat candy and free today on any item!" This is just one of several totally cute and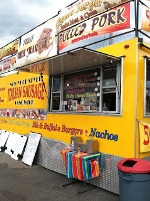 enthusiastic text messages I've received on my iPhone in the last few weeks from the folks that run the Big Yellow Mobile Kitchen. While waiting for my food, I was prompted to join their text list by a sign in their window asking me to do so, and I was bored so why not? Who am I to say no to such a request. Now I feel like I've got a new friend, someone who actually texts me once in a while about something way more interesting than what any of my other friends text me about: delicious, greasy food truck food. I love it. If you live in Coeur d'Alene, you've probably seen this yellow food truck many times/OTV, Get Out! North Idaho. More here.
Question: On a scale of one to 10, how much do you like bacon?
---
---