Tue., Oct. 1, 2013
Boise State Can't Play In UI's League
Memo to Don Soltman, President, Idaho Board of Education:
With all due respect allow me to bring to your attention the most recent ranking of universities and colleges in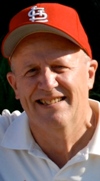 the United States put out annually by U.S. News and World Report. Please note that Idaho's land grant university, the University of Idaho, despite the reduced rations the board and legislature have had it on, still is ranked 161list of national universities. The faculty, the administration, boosters, alumni and students are all to be congratulated on this accomplishment for it comes despite your and Governor Otter's systematic starving of its budget and your increasingly burdening students with more fees and charges. ... Boise State is listed as #65 on the list of best REGIONAL universities in the west. Idaho State made the list of "also rans" (somewhere between 200 and 300) among NATIONAL universities. Spokane's Gonzaga University is listed as #4 on that list of best western regional universities/Chris Carlson, Carlson Chronicles. More here.
Question: Would you rather have a nationally ranked football team (which Boise State currently doesn't) than a college known for quality academics?
---
---