Mon., Sept. 23, 2013, 4:44 p.m.
Edit: Most Judge On Appearance
Judge not, lest ye be judged. Never judge a book by it's cover. It's not what's on the outside, but the inside that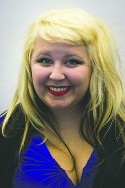 counts. All of these are things are lessons everyone is taught from a young age, however, if 90 percent of communication is nonverbal, can any of that really be true? The fact of the matter is whether or not it makes us uncomfortable to admit it, every day we constantly make snap judgements about the people we encounter. And that's ok, because it makes sense. Appearance is one of the quickest and easiest ways to communicate your values to a stranger. While it's entirely foolish to judge someone based off genetically predisposed traits like skin color or facial features, why should you disregard the fact that they look like they haven't showered in a week?/Christina Villagomez, North Idaho College Sentinel. More here.
Question: How long does it take you to form an opinion of someone, based on how they look. Are you usually correct in your opinion?
---
---