Mon., March 31, 2014, 1:03 p.m.
Dealing With Wasps
Backyard barbecue season may be a few months away, but it's not too early to start thinking about ways to deter those inevitable,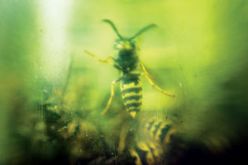 buzzing summertime party crashers: wasps. Entomology experts at the University of Idaho Extension in Moscow say it's too soon to tell if North Idaho residents are in for another summer population explosion of the winged stingers. "It is important to know that spring weather largely determines if we will have any wasp problems or not in any given year," states a University of Idaho Extension publication for homeowners. "Cold, rainy weather during April and May reduces the likelihood that queens can build a nest and collect enough food to feed her immature offspring." A short, warm spring -- like the one experienced in North Idaho last year -- increases the likelihood that growing nests will turn into successful colonies/Maureen Dolan, Coeur d'Alene Press. More here. (Press photo by Gabe Green: A wasp climbs up the inside of a trap outside a Coeur d'Alene area home in this photo taken in August 2013)
Question: How do you deal with wasps?
---
---