Tue., April 5, 2016
Flier pushes Far Right ticket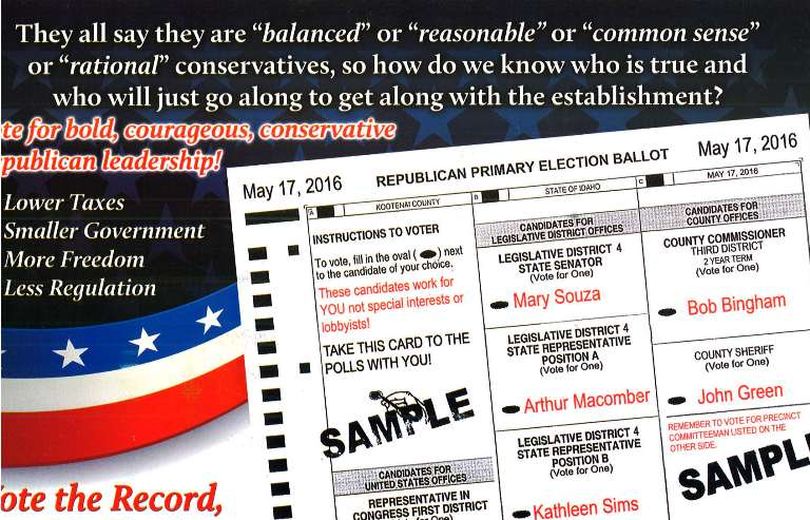 In the "Here We Go Again" Department, the KCRCCPAC (which isn't the local Republican Central Committee, as you are expected to believe) has circulated a flier pushing precinct committee members and a list of Tea Party candidates, including Bob Bingham for county commissioner and John Green for sheriff. On the front, the fliers make endorsements for precinct committee members. On the back, they are tailored to the addressee's legislative district. In the case above, the card was sent to a Coeur d'Alene resident.
Also: In the 2014 general election, Brent Regan, of the Idaho Freedom Foundation, was a heavy contributor to the Kootenai County Republican Concerned Citizens PAC. On Oct. 29, 2014, only days before the general election, Regan gave $6,100 to the KCRCC, almost half of the money that the organization had received as of that date. The financial disclosure statement was filed by PAC treasurer John H Thyssen III, of Post Falls.Thyssen, again, is listed as treasurer for this year's flier. You can see the 2014 disclosure statement showing Regan's involvement here.
DFO: Don't take for granted for one moment that incumbent Republican Sheriff Ben Wolfinger is safe from upset in a closed primary in which the Tea Party is poised to turn out in numbers. You need to be telling friends and neighbors that it is important to vote this year. Also, you might notice that Art Macomber is the choice of the so-called KCRCCPAC, over talented Rep. Luke Malek, R-Coeur d'Alene. This flier should show common-sense Republicans that the radicals are trying to seize more political territory.
---
---