Mon., July 11, 2016
Man faces murder count in overdose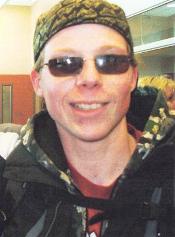 Shaun Patrick Kelly was arraigned on a murder charge Monday for allegedly forcing a Post Falls man to eat a lethal dose of methamphetamine at gunpoint. First District Magistrate Judge James Combo agreed to Kelly's request to be represented by the public defender's office. Kelly, 43, remains in the Kootenai County Jail on $100,000 bail. Investigators allege he is responsible for the overdose death of 22-year-old Evan Mychal Larkin, whose grandfather Clay Larkin served 13 years as mayor of Post Falls. Evan Larkin's family brought an urn with his remains to Monday's arraignment. They declined to comment afterward.
Kelly is charged with second-degree murder, aggravated assault and unlawful possession of a firearm by a felon. He has two prior felony convictions, for injury to a child in 2007 and burglary and grand theft in 2006.
Larkin died Aug. 23, 2015, three days after he was left unconscious in his running Isuzu pickup truck outside the Kootenai Health emergency department, court records show.
Larkin had been at Kelly's mobile home on West Hudlow Drive in Post Falls when Kelly, holding a gun, made Larkin ingest a 1.8-gram rock of meth to prove he was not a police informant, a witness told investigators/Scott Maben, SR. More here (subscription required).
---
---