Wed., July 10, 2013
Life: Taking Baby Steps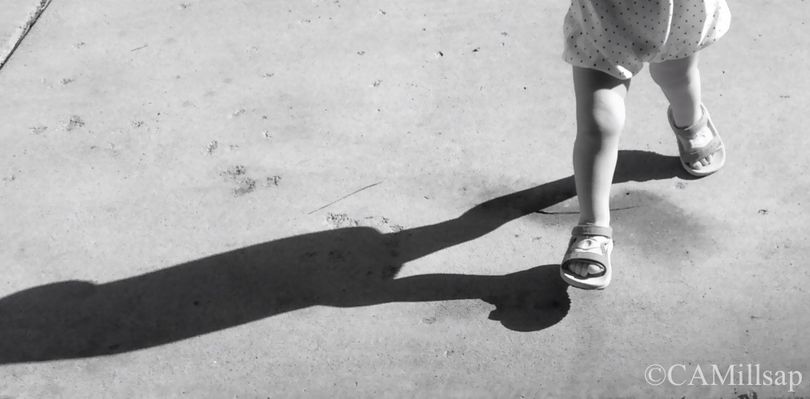 My granddaughter is suddenly a toddler. Over the last few months we've watched her crawl then, almost overnight, put one foot in front of another learning first to walk and then run. Her mother, my daughter, is trained to work with patients with mobility issues and she told me that learning to walk is really just overcoming a constant feeling that you're about to fall. I watched my own four children learn to walk and I'd never really thought about it that way, but when you do, learning to walk becomes a very brave thing to do. The easiest and safest thing would be to simply sit down and stay where we are, but nature takes care of that and we come into the world with the drive to get up and move forward.

My granddaughter is in constant motion these days, moving from one corner of the house to another, no longer unsteady and unsure. But those first stumbling steps have stayed on my mind. I noticed that while she was learning to walk, she never once looked down at her feet. She pushed herself up, put her eyes on the place or person she wanted to get to, and launched herself in that direction. She wasn't thinking about what might get in her way--that was our job--she just had to move.

Of course, as adults, we've learned to watch where we put our feet. We know that one wrong step could send us tumbling. When we set a target and move toward it, we do so consciously and carefully. You get smarter as you get older, right?

The sad thing is that by growing up and growing older, most of us inevitably lose our inner toddler, the inquisitive, driven, risk taker we were born to be. We watch our steps so carefully, so determined not to fall or to fail, we risk never letting go and getting anywhere. We plant ourselves so firmly and deeply we take root. And one day some of us discover we're stuck.

I've heard the phrase "baby steps" countless times, but until I watched this baby learn to walk, I'm not sure I ever really understood its meaning. Baby steps aren't small steps, they're big leaps of faith and curiosity. They are the means to getting where you want to be, in spite of the risks. This is another of the benefits of being the grandmother, I think. Now, I have time to watch the process with just enough distance and none of the fatigue, exhaustion and worry of being the parent.

Years ago, I threw myself headlong into into mothering. It was the most frighteningly wonderful thing I have ever done or will ever do. And the reward? Four unique adults who made their way confidently out of my nest just as this little one stepped in.

Cheryl-Anne Millsap is a travel writer whose audio essays can be heard on Spokane Public Radio and on public radio stations across the country. She is the author of 'Home Planet: A Life in Four Seasons' and can be reached at catmillsap@gmail.com
---
---