Mon., May 11, 2009
Lewis Wins ASA NWLMT Event At Spokane Count Raceway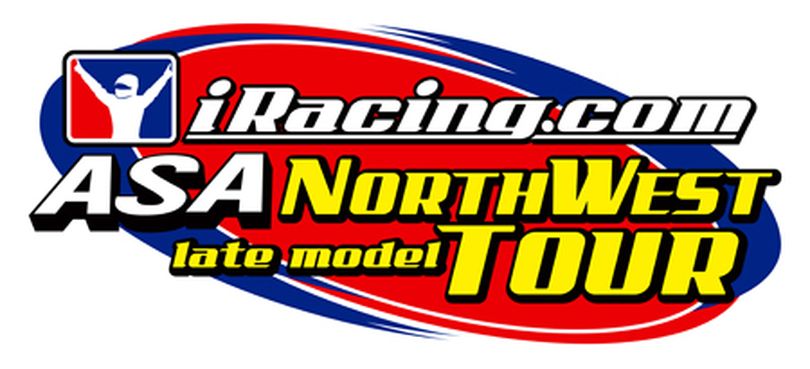 There were 7 lead changes among five drivers during the 125-lap feature on the banked .500-mile oval. Lewis made the last change on lap 87. Once getting the lead of the race it was evident that he was not going to lose it.
Courtesy: Scott Ellsworth, ASA NWLMT Media Relations
Marysville, WA (May 11, 2009): Gary Lewis (Snohomish, WA) won the inaugural
iRacing.com American Speed Association Northwest Late Model Tour feature at
Spokane County Raceway on Saturday night May 9. Brent Harris (E. Wenatchee,
WA) was second followed by local favorite Shelby Thompson (Spokane, WA).  

There were 7 lead changes among five drivers during the 125-lap feature on
the banked .500-mile oval. Lewis made the last change on lap 87. Once
getting the lead of the race it was evident that he was not going to lose
it. During the post race interview he said "I was conserving tires during
most of the race. The car was awesome." Lewis won a Late Model Challenge
Series race on at the same track (under different owner and operator) in
2007. Lewis leads the chase for the first ever iRacing.com ASA NWLMT
championship.

Pole sitter Kevin Richards (Newman Lake, WA) relinquished the lead early to
Harris. Richards was forced to leave the race with mechanical woes. Harris
led until fast qualifier Mike Longton took over on lap 57. Longton lost the
lead a lap later to Thompson. Longton took the lead back a lap later.
Thompson regained the lead on a restart after a caution on lap 62. Thompson
led until overtaken by Lewis.

Twenty-one cars were on the starting grid. The top performing 'Port City
Raecars' Rookie Challenge driver was Amanda MacDonald (Ephrata, WA)
finishing 12th. 

The iracing.com ASA Northwest Late Model Tour returns to the Inland
Northwest on June 13 with a stop at Stateline Speedway (Post Falls, ID) for
125-laps on the high banked .25-mile oval.

Next up for the iRacing.com American Speed Association Northwest Late Model
Tour is in Ronan, Montana at Mission Valley Speedway on May 23 & 24 for a
two day event capped by a $10,000.00 to win 150-lap feature. This event
draws cars from all over the Northwest all vying for a portion of the
$40,000.00 purse.

Official Finish: iRacing.com American Speed Association Northwest Late Model
Tour
Spokane County Raceway May 9, 2009  'Grand Opening' 125 (125-laps .5-mile
oval)

Pos - Laps Completed - Name - Hometown

1          125      Gary Lewis                 Snohomish, WA

2          125      Brent Harris                E. Wenatchee, WA

3          125      Shelby Thompson       Spokane, WA

4          125      Dan Rhodes                Rainier, WA

5          125      Kelly Mann                 Monroe, WA

6          125      Erick Hargraves          Toppenish, WA

7          125      Brad Stanwood           Portland, OR

8          125      Mike Longton             Moxee, WA

9          125      Jay Sauls                     Puyallup, WA

10        124      Rod Schultz                Woodland, WA

11        122      Rusty Webb                Deer Park, WA

12        70        Amanda MacDonald*            Ephrata, WA

13        60        Joey Tanner*               Portland, OR

14        59        Pete Harding               Surrey, B.C.

15        56        Harold Raczynski       Duvall, WA

16        56        Rod Schultz, Jr           Kalama, WA

17        55        Kevin Richards           Newman Lake, WA

18        55        Alan Cress*                 Albany, OR

19        2          Mitch Franklin            Puyallup, WA

20        1          Jared Vorse                 Olympia, WA

21        dns      Shaun O'Reilly            Salmon, ID

* Port City Racecars Rookie Challenge

7 Lead Changes - Time of Race 1:36:02.9 - Cautions: 6  - Red Flags: 2

Fast Time: Mike Longton :17.653 (101.966 mph)
---
---