Sat., Aug. 28, 2010
Kyle Busch extends winning streak at Chicagoland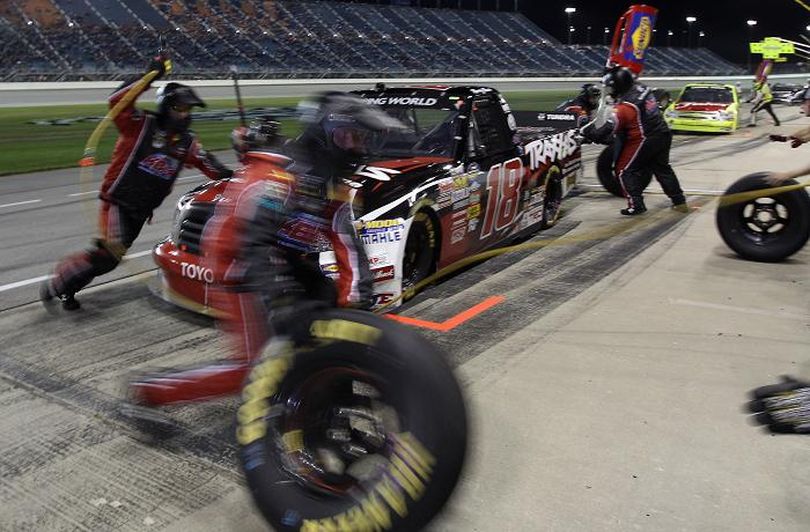 With the victory at Chicagoland Speedway, Kyle Busch has now won four consecutive NASCAR series events with his three-race sweep of Bristol last weekend.
By Lee Montgomery
Special to the Sporting News NASCAR Wire Service
(August 27, 2010)
JOLIET, Ill.—What can slow down Kyle Busch? Perhaps only the checkered flag.
Busch won his second consecutive NASCAR Camping World Truck Series race and his fourth national series race in a row by dominating the EnjoyIllinois.com 225 on Friday night at Chicagoland Speedway.
Busch swept all three NASCAR national series races at Bristol Motor Speedway last weekend and continued his winning ways at Chicagoland. He led three times for 121 laps for his fourth truck series win in nine starts in 2010.
Busch now has 17 wins across the Sprint Cup (three wins), Nationwide (10) and truck series this year.
The only drama for Busch came on pit road under two separate caution flags. On Lap 81, Busch's gasman had trouble with the second gas can, and Busch lost four spots for the restart. But he charged to the lead on Lap 98 after another caution slowed the race.
On Lap 126, Busch changed four tires on his No. 18 Toyota, with several other drivers taking two. Busch restarted sixth but passed three cars on the first green-flag lap and got the lead on Lap 131.
Busch also survived a late-race thrust from Todd Bodine, who made an inside move on Busch with six laps to go but slipped and lost ground. Busch then held off Bodine on a green-white-checkered finish after Timothy Peters blew an engine. The race went four laps beyond the scheduled 150 on the 1.5-mile track.
Bodine ended up second, with Ron Hornaday Jr. third, Johnny Sauter fourth and rookie Justin Lofton fifth. Aric Almirola, Matt Crafton, Rick Crawford, Austin Dillon and David Starr completed the top 10.
The victory was Toyota's 75th in the truck series since 2004, when it entered NASCAR competition.
---
---