Sun., March 7, 2010
Jason Meyers Wins at Thunderbowl Raceway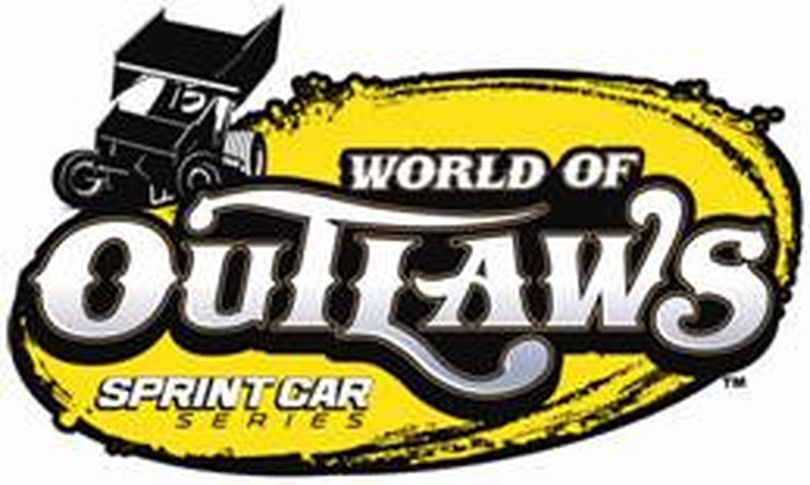 It may have taken nearly seven years to accomplish but Jason Meyers finally scores a World of Outlaws Sprint Car Series main event victory at his California home track. The victory netters the Clovis, Calif. driver over $10,000 in prize money.
Courtesy: WoO Sprint Car Series Media Relations 
Tulare, CA-March 5, 2010-Jason Meyers had been trying to win a World of Outlaws race at his home track of Groppetti Automotive Thunderbowl Raceway in Tulare since 2003. He came close on a couple of occasions, leading laps and being in contention, though never was quite able to make it to Victory Lane with the series at the high-banked 1/3-mile bullring. The native of nearby Clovis changed all of that on Friday night, as he won an exciting race over Joey Saldana to score the $10,000 triumph.
For Meyers, it was the 37th A-Feature win of his World of Outlaws career, as he closes in on becoming just the 12th driver in the series 30-plus year history to cross the 40 A-Feature win plateau.
Meyers started second and used a couple of strong starts including on a complete restart after an opening lap red flag, to jump out to the lead over Fred Rahmer, who started on the pole. Meyers then fended off several challenges from Joey Saldana in the late going to score his second consecutive World of Outlaws win aboard the GLR Investments KPC.
"It's incredible," said Meyers. "Every sponsor I have is here tonight. All of my family is here, and my fellow car owners are here as well. It couldn't be any better. We've won so many races here, but never an Outlaws show. It's been a great start to the season. We got the monkey off our back tonight and to win two in a row is great."
Joey Saldana closed in on Meyers down the stretch and got along side of him a couple of times and actually took the lead in turn one in the waning laps, only to have Meyers power back around him as they exited turn two. The lead pair encountered some light lapped traffic over the final two circuits, with Meyers splitting a couple of cars to pull away slightly on the white flag lap en route to the win.
"I was starting to move around in lapped and trying to find a better line, but I couldn't find anything better and that kind of allowed those guys to catch me," explained Meyers in Victory lane. "I knew when Joey (Saldana) got by me with how good he is running the top, that the top must be better. I just had to get back up there and not be moving around in the lapped cars and get my timing back down. Joey is great to race with. We crossed over there about three or four times and never touched each other and put on another great race for the fans."
Meyers endured three red flags and two yellows which led to the first double file restarts of the season during a feature event on a short track. Meyers chose to restart on the top side of the track on every double file restart and charged to the lead each and every time.
"It was too hard to get going on the bottom and the straightaway was too slick," he shared. "You definitely had to use the banking and the little bit of moisture that was there to get you rolling and carry your speed down the front straightaway."
Saldana wound up second for the third time in four races this season aboard the Budweiser Maxim for Kasey Kahne Racing. He started fifth and lost a spot in the early going, before making his charge to the front.
"We had a good car and the crew did a great job," Saldana said. "I felt like at the end of the race when it counts, our car definitely had the speed to win the race. We just came up one spot short. We'll come back tomorrow and see if we can put on another good show for the fans and see if we can win one."
A double file restart around the halfway point found Saldana running fifth and restarting on the outside. He shot around Donny Schatz and Lucas Wolfe on the restart to move into third and set his sights on Jac Haudenschild.
"Donny (Schatz) and I were having a great race for fourth and finally on that restart, I went for it and got by two guys and got to third," noted Saldana. "Then I got by Haud (Jac Haudenschild) and tracked down Jason (Meyers) and just had to get real aggressive on the restart."
Haudenschild came home third in the Owens Corning Fiberglass XXX to earn his best finish of the season, despite having a significant amount of damage to his top wing sustained much earlier in the race. The Hall of Famer started third and fell to fourth early on before moving up to second on the 16th lap when he got around Lucas Wolfe and inherited a spot when Tim Kaeding got upside ending his night while running third.
"The car felt good," Haudenschild said. "I'm glad to get back up there. Hopefully we can start running in the Top-Five again. It's nice to be in the Top-Three. We just need to win some races now."
Donny Schatz steadily worked his way from the 13th starting spot to finish fourth aboard the Armor All/STP J&J. The four--ime and defending series champion has finished fourth or better in all four races this season and moved into a tie with his Tony Stewart Racing teammate Steve Kinser for the point lead.
Kinser recovered from a third-lap spin that put him at the rear of the field to finish fifth aboard the Bass Pro Shops Maxim to earn his fourth Top-Five finish of the season. He climbed the front straightaway wall coming to the checkered flag and nearly got upside, but saved it and crossed the line on all four wheels.
Fred Rahmer came home sixth after starting on the pole in the C&S Lawn & Landscape machine in his debut at Thunderbowl Raceway. Chad Kemenah earned the KSE Race Products Hard Charger Award coming from17th to finish seventh in the Golden Flavor Sesame Sticks Maxim. Kraig Kinser was eighth in the Quaker State Maxim, with Craig Dollansky ninth aboard the Big Game Treestands Maxim. Jason Sides rounded out the Top-10 in the Wetherington Tractor Service Maxim.
The World of Outlaws wrap-up their stay in Tulare on Saturday, March 6 at Thunderbowl Raceway with $10,000 again awaiting the winner.
THUNDERBOWL RACEWAY NIGHT #1 NOTES
FAST QUALIFIER: Tim Kaeding paced the 32 cars that took time with an record setting AMB i.t. timed lap around the high-banked 1/3-mile oval at 12.651 seconds at 94.759 mph. For his qualifying effort, Kaeding earned five bonus points. The next four fastest qualifiers also earned bonus points, including: Lucas Wolfe (4), Joey Saldana (3), Jac Haudenschild (2) and Paul McMahan (1).
THUNDERBOWL RACEWAY NIGHT #1 QUALIFYING WINNERS: Jonathan Allard, Fred Rahmer, Craig Dollansky and Steve Kinser won heat races. Fred Rahmer won the dash. Evan Suggs won the B-Main.
FEATURE WINNERS: There have been four World of Outlaws Sprint Car Series A-Feature events held in 2010. The winners include: Jason Meyers (The Dirt Track at Las Vegas Motor Speedway and Thunderbowl Raceway), Steve Kinser (Volusia Speedway Park) and Donny Schatz (Volusia Speedway Park).
1/3-MILE WINNERS: Thunderbowl Raceway is a high-banked 1/3-mile oval. The World of Outlaws have raced once this season on a track that size. The winner was: Jason Meyers (Thunderbowl Raceway).
World of Outlaws Sprint Car Series Statistical Report; Thunderbowl Raceway; Tulare, CA; March 5, 2010
Qualifying
1) 83-Tim Kaeding 12.651
2) 5W-Lucas Wolfe 12.664
3) 9-Joey Saldana 12.696
4) R19-Jac Haudenschild 12.792
5) 91-Paul McMahan 12.817
6) 6-Danny Lasoski 12.818
7) 24-Terry McCarl 12.823
8) 15-Donny Schatz 12.826
9) 14-Jason Meyers 12.836
10) 51-Fred Rahmer 12.843
11) 7-Craig Dollansky 12.883
12) 11-Steve Kinser 12.939
13) O-Jonathan Allard 13.005
14) 33E-Evan Suggs 13.010
15) 11K-Kraig Kinser 13.033
16) 44W-Austen Wheatley 13.065
17) 83JR-Tim Shaffer 13.079
18) 63-Chad Kemenah 13.081
19) 21-Tommy Tarlton 13.082
20) 17-Daryn Pittman 13.126
21) 2B-Ben Gregg 13.148
22) 7S-Jason Sides 13.212
23) 4X-Toni Lutar 13.251
24) 94-Zach Zimmerly 13.277
25) 55-Brandon Carey 13.323
26) OO-Cory Eliason 13.346
27) X-Charlie Louden 13.366
28) 22-Brian Ellenberger 13.404
29) 15H-Sam Hafertepe Jr. 13.582
30) 2L-Logan Forler 13.919
31) 10-Anthony Simone 14.070
32) 23-Jerry Wise 14.302
Heat 1 (10 Laps, top 5 finishers transferred to A-feature)
1) O-Jonathan Allard [1]
2) 14-Jason Meyers [2]
3) 91-Paul McMahan [3]
4) 2B-Ben Gregg [6]
5) 83-Tim Kaeding [4]
6) 83JR-Tim Shaffer [5]
7) 15H-Sam Hafertepe Jr. [8]
8) 55-Brandon Carey [7]
Heat 2 (10 Laps, top 5 finishers transferred to A-feature)
1) 51-Fred Rahmer [2]
2) 5W-Lucas Wolfe [4]
3) 7S-Jason Sides [6]
4) 6-Danny Lasoski [3]
5) OO-Cory Eliason [7]
6) 33E-Evan Suggs [3]
7) 63-Chad Kemenah [5]
8) 2L-Logan Forler [8]
Heat 3 (10 Laps, top 5 finishers transferred to A-feature)
1) 7-Craig Dollansky [2]
2) 9-Joey Saldana [4]
3) 24-Terry McCarl [3]
4) 11K-Kraig Kinser [1]
5) 21-Tommy Tarlton [5]
6) X-Charlie Louden [7]
7) 4X-Toni Lutar [6]
8) 10-Anthony Simone [8]
Heat 4 (10 Laps, top 5 finishers transferred to A-feature)
1) 11-Steve Kinser [2]
2) R19-Jac Haudenschild [4]
3) 44W-Austen Wheatley [1]
4) 15-Donny Schatz [3]
5) 17-Daryn Pittman [5]
6) 23-Jerry Wise [8]
7) 22-Brian Ellenberger [7]
8) 94-Zach Zimmerly [6]
Dash (8 laps, finishing order determined first 10 starting positions of A-feature)
1) 51-Fred Rahmer [1]
2) 14-Jason Meyers [2]
3) R19-Jac Haudenschild [4]
4) 5W-Lucas Wolfe [6]
5) 9-Joey Saldana [5]
6) 83-Tim Kaeding [10]
7) 91-Paul McMahan [3]
8) 11-Steve Kinser [8]
9) 7-Craig Dollansky [7]
10) O-Jonathan Allard [9]
B-main (12 laps, top 4 finishers transferred to A-feature)
1) 33E-Evan Suggs [1]
2) 63-Chad Kemenah [3]
3) 55-Brandon Carey [6]
4) 15H-Sam Hafertepe Jr. [9]
5) 4X-Toni Lutar [$200] [4]
6) 94-Zach Zimmerly [$180] [5]
7) 2L-Logan Forler [$175] [10]
8) 10-Anthony Simone [$160] [11]
9) X-Charlie Louden [$150] [7]
10) 83JR-Tim Shaffer [$150] [2]
11) 23-Jerry Wise [$150] [12]
12) 22-Brian Ellenberger [$150] [8]
A-main (35 laps) - Starting Position [#]
1) 14-Jason Meyers[2] [$10,000]
2) 9-Joey Saldana[5] [$5,000]
3) R19-Jac Haudenschild[3] [$3,000]
4) 15-Donny Schatz[13] [$2,700]
5) 11-Steve Kinser[8] [$2,500]
6) 51-Fred Rahmer[1] [$2,200]
7) 63-Chad Kemenah[17] [$2,000]
8) 11K-Kraig Kinser[15] [$1,800]
9) 7-Craig Dollansky[9] [$1,600]
10) 7S-Jason Sides[21] [$1,450]
11) 6-Danny Lasoski[11] [$1,300]
12) 17-Daryn Pittman[19] [$1,200]
13) 33E-Evan Suggs[14] [$1,100]
14) 55-Brandon Carey[22] [$1,000]
15) 44W-Austen Wheatley[16] [$950]
16) 2B-Ben Gregg[20] [$900]
17) 5W-Lucas Wolfe[4] [$850]
18) 83-Tim Kaeding[6] [$750]
19) 91-Paul McMahan[7] [$725]
20) 24-Terry McCarl[12] [$700]
21) 21-Tommy Tarlton[18] [$700]
22) 15H-Sam Hafertepe Jr.[24] [$700]
23) OO-Cory Eliason[23] [$700]
24) O-Jonathan Allard[10] [$700]
Lap Leaders: Jason Meyers 1-35
KSE Hard Charger Award: Chad Kemenah
Penske Power Position Award: Daryn Pittman
World of Outlaws Championship Standings through March 5
Steve Kinser 586
Donny Schatz 586
Joey Saldana 583
Jason Meyers 580
Jason Sides 549
Danny Lasoski 528
Jac Haudenschild 522
Tim Kaeding 519
Kraig Kinser 517
Lucas Wolfe 500
---
---