Sun., April 3, 2011
Late pass gives Sauter truck win at Martinsville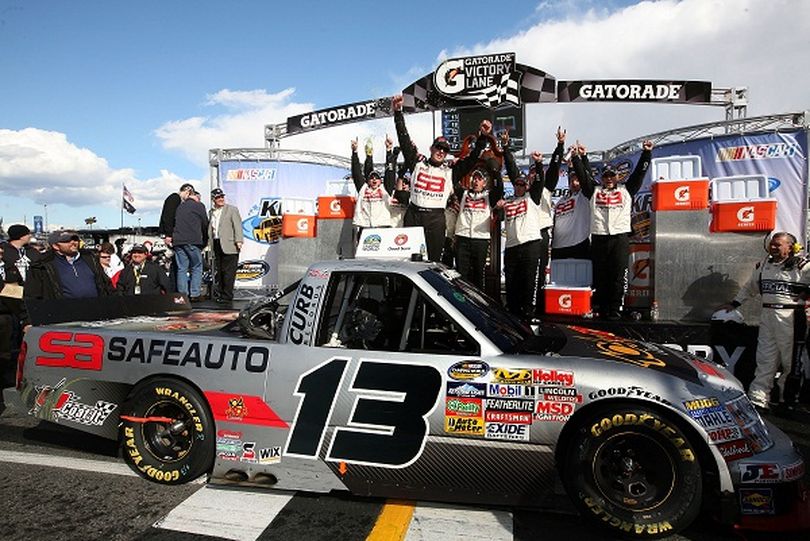 With the white flag on the horizon Johnny Sauter turned up the heat on Kyle Busch and made a daring pass stick en route to victory at Martinsville Speedway in the running of the Kroger 250 on the NASCAR Camping World Truck Series.
By Reid Spencer
Sporting News NASCAR Wire Service
(April 2, 2011)
MARTINSVILLE, Va.—Johnny Sauter passed Kyle Busch on the next-to-last lap of Saturday's Kroger 250 at Martinsville Speedway and held on to post his first NASCAR Camping World Truck Series victory of the season and the third of his career.
Busch ran second, .453 seconds back. Ron Hornaday Jr. finished third, followed by his team owner, Kevin Harvick, who recovered from early trouble to finish fourth.
Austin Dillon held the lead by four truck-lengths over Max Papis when Dusty Davis' crash in Turn 3, after contract from Todd Bodine's Toyota, brought out the 10th caution on Lap 202 of 250. The accident bunched the field for the subsequent restart; by then Harvick, who restarted ninth, had regained two laps he lost on pit road early in the race.
During the five green-flag laps that followed, Busch worked his from sixth to second and Harvick from ninth to fifth. Bodine's spin caused the 11th caution on Lap 214 and tightened the field for a restart on Lap 220, with Dillon in the lead.
Busch regained the lead in the first corner and paced the field through one more yellow-flag period until Matt Lofton's spin in Turn 1 brought out the 13th caution and set up a four-lap sprint to the finish.
Note: The race was red-flagged for 9 minutes, 40 seconds after a violent crash on Lap 135 involving James Buescher and Jeffrey Earnhardt. That wreck in Turn 3 occurred seconds after a multitruck collision in Turn 2 that caused the seventh caution of the race.
---
---