Sun., Feb. 20, 2011
Trevor Bayne shocks the racing world en route to Daytona victory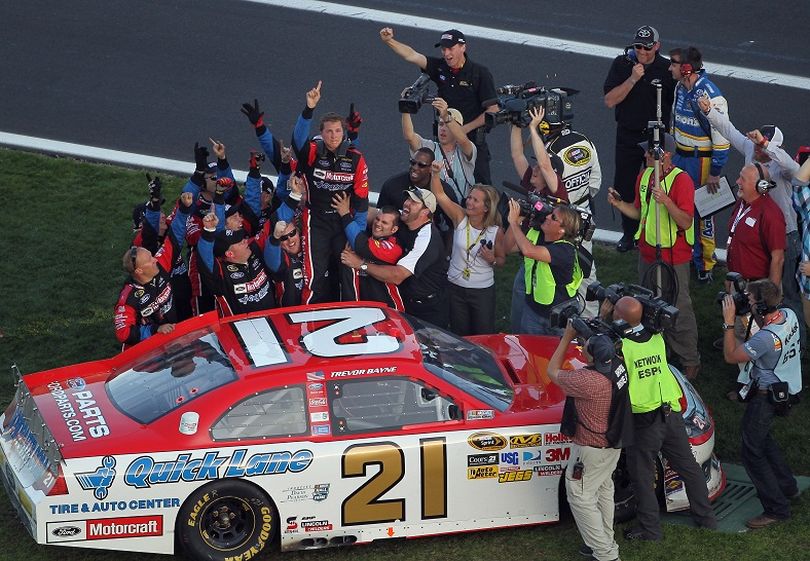 Cinderella came to Daytona and gave her glass slipper to a young man who celebrated his 20th birthday on Saturday as Trevor Bayne shocked the world with his Daytona 500 victory.
By Reid Spencer
Sporting News NASCAR Wire Service
DAYTONA BEACH, Fla.
— Trevor Bayne won the Daytona 500 on Sunday, a day that featured records for cautions and lead changes. Bayne, who turned 20 Saturday, led the final two laps of the race that was decided with a green-white-checkered-flag finish.
Carl Edwards finished second, with David Gilliland, Bobby Labonte and Kurt Busch rounding out the top five. The victory was the first for the Wood Brothers since 2001 with Elliott Sadler. Bayne is the seventh driver to get his first Cup victory in the Daytona 500.
The race went eight laps beyond the scheduled 200 laps because of crashes and needed two green-white-checkered-flag finishes before Bayne became the youngest winner of the 500. He led the field to the green flag on the final restart.
Some of the Sprint Cup Series top drivers were knocked from contention early at Daytona International Speedway, including five-time Cup champion Jimmie Johnson, who was caught up in a 17-car pileup early in the race.
Overheating also was an issue, as cars raced in pairs—nose to tail—throughout the afternoon.
"Keep an eye on those water temperatures, even if you have to switch every two laps," Richard Childress Racing vice president of competition Mike Dillon radioed to Clint Bowyer and Paul Menard, the only two RCR drivers left after engine failures took out Kevin Harvick and Jeff Burton.
It didn't take long to for the "big one" to gobble up more than a third of the field in Sunday's Daytona 500.
In a pack of cars in Turn 3 on Lap 29, Michael Waltrip tapped David Reutimann's No. 00 Toyota—a car Waltrip owns—and triggered a 17-car melee that damaged the cars of a dozen potential race winners, including Johnson and Hendrick Motorsports teammates Jeff Gordon and Mark Martin.
The cars of Kenseth, Biffle, Kurt Busch, Marcos Ambrose, Brian Vickers and feel-good story Brian Keselowski also were heavily damaged in the collision, as were Waltrip and Reutimann.
"It's just a product of this type of racing," Reutimann said. "It wasn't Mike's fault. The guys in front of us started moving up, and when you're pushing, you're at the mercy of the guy in front of you. The guy in front has to tell you what's going on, and I probably was a little late there and got us both in trouble.
"I know it tore up a lot of cars, and I hate that ended up happening. It's unfortunately a product of this type of racing. In those situations you wish it was a single-car wreck. You don't want to mess everybody else up."
Ambrose, in his first points race in the No. 9 Richard Petty Motorsports Ford, was trying a conservative approach. It didn't work.
"Everybody is trying to find partners to work with and pull away," Ambrose said. "I think everyone is just trying to work out how to do it. Today, I was just trying to make sure I didn't drop off the back without finding a good partner and got caught up in a mess, too. I was trying to play it safe, and it didn't work out too well for me."
An early casualty was Harvick, the 2007 Daytona 500 winner and one of the heavy prerace favorites. The engine in Harvick's No. 29 Chevrolet grenaded on Lap 23, erupting in a dense cloud of smoke.
"It looks like it dumped a piston," engine builder Danny Lawrence told team owner Richard Childress, who was concerned about the engines in his other cars. "The oil pan is bent and the block's torn up."
Childress had good reason to be concerned. Burton's motor blew on Lap 93, knocking the half the RCR contingent out of the race.
---
---