Sun., Feb. 19, 2012
Busch's late pass nets Budweiser Shootout win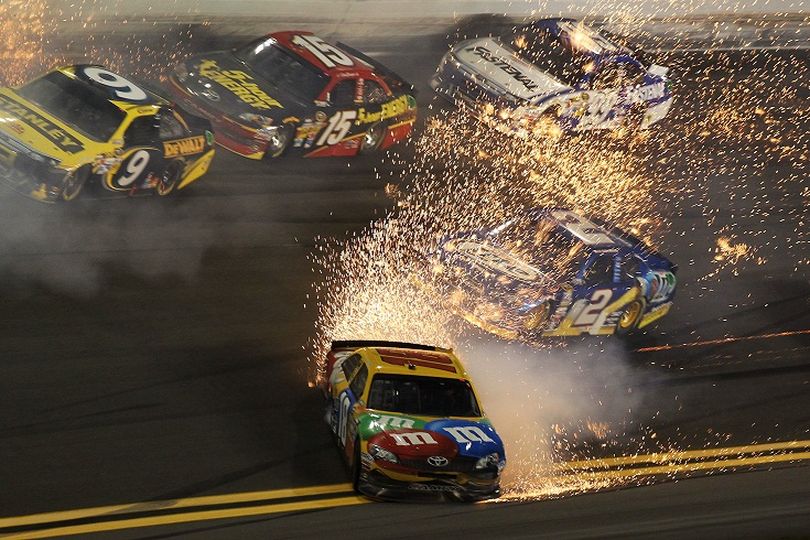 Kyle Busch pushed Stewart to the lead on the last lap of Saturday night's exhibition Budweiser Shootout. Then Busch ducked to the outside of Stewart as they closed in on the finish line and beat him by .013 seconds to the checkered flag
Kyle Busch used a last-gasp pass of defending NASCAR champion Tony Stewart to grab the first win of the 2012 season at Daytona International Speedway at Daytona Beach, Fla.
Busch pushed Stewart to the lead on the last lap of Saturday night's exhibition Budweiser Shootout. Then Busch ducked to the outside of Stewart as they closed in on the finish line and beat him by .013 seconds to the checkered flag.
Busch used two brilliant saves earlier in the race to remain in contention for the win.
"I was just glad that I was able to pull through it, to be honest with you, to be able to straighten it back out, keep going. Checked my mirror. Everybody ways stabbing the brakes, trying to slow down, thinking I'm going to wreck. We get back going, they're like, huh, all right," Busch said.
"You know, this win certainly ranks up there. Being knocked around and beat around, almost spun out a couple times, being able to prevail through all that, still come through. Obviously there were 10 cars at the end of the race, we didn't have much to pass. It's not like the 500 where there still might be 22 are them or something.
It was certainly cool because I was trying to push Newman and hook up with him, then he was hooked up with whoever was in front of him. I'm like, All right, fine. The hole opened up behind Stewart. I ducked in behind there knowing he had a fast car, pushed him. We got up through there. He made the way to the outside and everything. Coming to the line, I've been in that situation reverse before with Tony. Hadn't ended up so well. This time it turned out all right. We made it past him and beat him to the line, so it was cool."
The 75-lap race was marred by two big accidents as NASCAR successfully split up the two-car tandem racing that dominated at Daytona and Talladega last season.
---
---