Sat., July 7, 2012
Gray, Torrence, Johnson and Arana lead Ohio NHRA qualifying after first round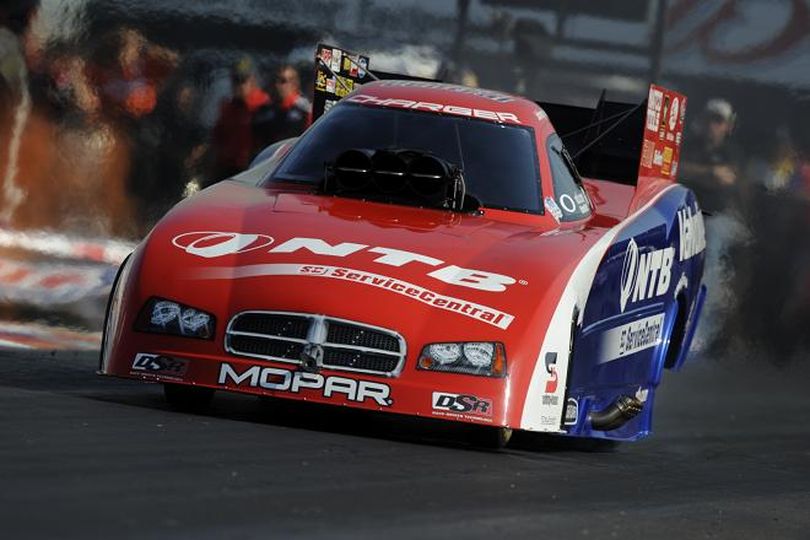 Johnny Gray drove his Service Central Dodge Charger to the qualifying lead with a performance of 4.094 seconds at 306.33 mph. Gray currently has one No. 1 qualifying position this season and two in his career.
Courtesy: NHRA Media Relations
NORWALK, Ohio – Johnny Gray raced to the Funny Car qualifying lead Friday at the Summit Racing Equipment NHRA Nationals at Summit Racing Equipment Motorsports Park.
Steve Torrence (Top Fuel), Allen Johnson (Pro Stock) and Hector Arana Sr. (Pro Stock Motorcycle) also were qualifying leaders at the NHRA Full Throttle Drag Racing Series event

just west of Cleveland

.
Gray drove his
Service Central
Dodge Charger to the qualifying lead
with a performance of 4.094 seconds at 306.33 mph. Gray currently has one No. 1 qualifying position this season and two in his career.
"It was a good run
,"
said Gray, currently fourth in the points standings.
"
The car left hard, ran hard, and I thought we were really going to make a good run, and at almost 3.8 seconds into the run, it knocked the tires loose and went up on the rev limiter, so I just drove it to the finish line. Rob [Wendland, crew chief] was getting all the goodie
s
out of her. She just came loose
.
You have all these thoughts and all these fears that you're going to make a mistake because you're hot and not thinking straight, but once they fire the motor and lower the body, there's no more thought processes. It's just action then. From then on, it's more like a reaction thing."
In Top Fuel, Torrence moved into position to earn his second No. 1 of the season with a performance of 3.829 at 319.98 in his
Capco Contractors
dragster. Torrence has qualified in
one of
the top six positions in each of the last seven races.
"Making a good lap in the first session was really crucial," said Torrence. "It allowed us to run in the back of the pack while the track was cooling down. I was still surprised our run stayed
N
o. 1 because there was a pair of really good cars behind us
.
"
He is fresh off of a final-round appearance in Chicago and has won twice in the last five events. Torrence is currently in the fourth position in the series point standings.
"Qualifying is key
," Torrence said. "
It's good to qualify near the top because it plays into your hand on Sunday with lane choice and your place on the ladder. It gives you a window to work on things on Saturday that can help you in eliminations."
In Pro Stock, Allen Johnson powered his
Team
Mopar Dodge Avenger to the qualifying lead with a 6.663 at 207.34. If the run stands through tomorrow's two sessions it will be Johnson's fifth No. 1 qualifying position of the season.
"We go up there every run trying to be the quickest and have the confidence that we can be
," Johnson said. "
We're ready for the K&N HorsePower Challenge tomorrow. It's a very important race, and I think we're the car to beat if I can do my job
.
"
Jason Line is in second position heading into Saturday's qualifying with
a performance of
6.697 at 205.94
in his Summit Racing Chevy Camaro
while Greg Anderson's run of 6.698 at 206.10
put him in
the third qualifying position
in his Summit Camaro
.
In Pro Stock Motorcycle, Arana Sr. powered his
Lucas Oil
Buell to the top qualifying spot with a performance of 6.962 at 188.02. He has three No.1 qualifying positions so far this season. He won this event in 2008, but has never bee
n
the
No. 1 qualifier at this track.
"This bike, she was running great in Chicago," Arana Sr. said. "We had the perfect tune-up. We didn't even have to touch it, but on Sunday we developed an electrical problem. It did that against Karen [Stoffer in the second round] where it gave me this hiccup, it stopped, and then it kicked back on. We have replaced cam sensors, spark plug wires, injector, you name it. We made the first hit here, and we thought we found the problem, and, of course, this last run it did it again, and I was disappointed because it felt like it left good, and it felt like I was going on a perfect run, straight and everything, and then it did that. I was a little bit disappointed because we need to fix it, we need to find it. I don't want to go into eliminations still with this problem, which it caused my loss of concentration when I raced LE [Tonglet in the Chicago semifinals]."
Arana Jr. follows his father with the No. 2 qualifying position with a run of 6.984 at 192.69 followed by Eddie Krawiec, LE Tonglet and Andrew Hines.
Qualifying continues Saturday with sessions at 12:30 p.m. and 3 p.m.
The K&N Horsepower Challenge will be showcased for the eight qualified Pro Stock teams on Saturday with rounds at 11:30 a.m., 1:30 p.m. and 2:50 p.m.
Sunday's eliminations start at 11 a.m.
---
---