Sun., Sept. 23, 2012
Brad Keselowski reaping the rewards of unrelenting effort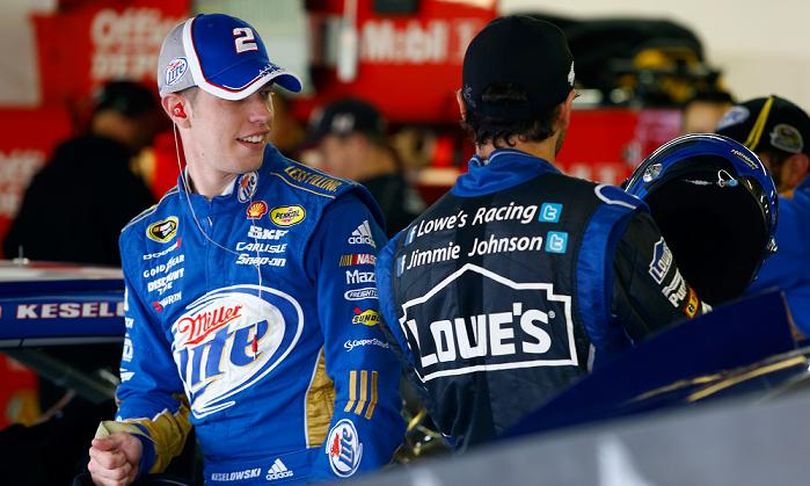 Brad Keselowski, 28, a third-generation racer from Michigan, has been described as relentless in his pursuit of excellence. To be any less committed, Keselowski believes, wouldn't be fair to his No. 2 Penske Racing team.
Sept. 22, 2012

By Reid Spencer
NASCAR Wire Service

LOUDON, N.H. -- In his third full season of NASCAR Sprint Cup Series racing, and his second on the Cup side with crew chief Paul Wolfe, Brad Keselowski is the leader of the Chase standings after one event this year.

Keselowski, 28, a third-generation racer from Michigan, has been described as relentless in his pursuit of excellence. To be any less committed, Keselowski believes, wouldn't be fair to his No. 2 Penske Racing team.

"Am I relentless?" Keselowski asked rhetorically during a question-and-answer session after Cup qualifying at New Hampshire Motor Speedway. "When you want something, you go out there and get it, you get the job done. I've just always believed if something's worth doing, it's worth doing well.Â

"I've never been afraid to put the effort in, and I've had great teachers in my life to showcase what that effort means, whether it's my dad or guys like Paul Wolfe or guys on the team. I know there's a group of people around me right now at Penske Racing that work their butts off and make sacrifices to their own lives for me to be successful. It sure would be a shame to not give the same."Â

Keselowski enters Sunday's Sylvania 300, the second race in the Chase, with a three-point lead over second-place Jimmie Johnson and an eight-point advantage over third-place Tony Stewart, the defending series champion.

Though Keselowski has just six starts at New Hampshire -- compared with 21 for Johnson and 27 Stewart -- he feels his recent history at the track bodes well for Sunday.

"By today's standards, you could say I have limited experience, because there's really not that many young drivers or drivers that have less experience than me in the series," Keselowski said. "But I feel that I have the appropriate amount of experience to be successful.Â

"I feel like we've showcased that over the last two weekends here where we finished fifth (in July) and second (in last year's Chase race), and we won the Nationwide race the last time here. So I feel like we have a pretty good track record and as good a shot as anyone else."

SO MUCH FOR THE 'STACHE

After crashing out of last Sunday's race at Chicagoland thanks to a stuck throttle, Jeff Gordon showed up at Loudon clean-shaven, at least in part on the premise that the mustache he brought back for the Chase opener didn't bring him the good luck he had anticipated.

Gordon had kept a promise in growing the sort of mustache he had worn as a Cup rookie in 1993.

"I did the mustache because somebody said, 'Hey, bring back the mustache,' " Gordon said. "I said, 'Well, if we make the Chase then I'll bring it back.'Â So I brought it back, and then with the way that it went last week, I was like, 'OK, I'm done with the mustache.'Â I just changed my mind."

Though Gordon trails Keselowski by 47 points with nine races left, he doesn't believe the deficit is insurmountable. As a measure of how deep the hole is, however, Gordon could win all nine races and conceivably not claim the title, if Keselowski runs second each week.

Perhaps Gordon was looking for a reverse Sampson effect -- and perhaps it worked. After shaving the facial hair, Gordon won the pole for Sunday's race.

THREE CUP STARTS FOR STENHOUSE

As he prepares for his first full season as a Cup driver next year, Ricky Stenhouse Jr. will run at least three more races in NASCAR's premier series in 2012, team owner Jack Roush said Saturday.

Roush, however, isn't averse to adding events to Stenhouse's Cup plans, if circumstances dictate doing so. Stenhouse's main focus this year is defending his Nationwide Series title, but Cup experience may play into that.

"Right now, we're organized for three races for him at Dover, Charlotte and Homestead," Roush said Saturday. "But if we decide his prospects for winning the Nationwide championship are improved by running more Sprint Cup races, we'll do that.

"And if we decide there's a sponsor that expresses interest and wants to take a look at him, or to be on board for an additional venue, we'll do that as well."

Last week at Chicagoland, Roush Fenway Racing announced a commitment from Best Buy for 12 races as primary sponsor on Stenhouse's No. 17 Cup car next year. Fifth Third Bank and Zest also are on board as primaries for several races, but Roush indicated that approximately 30 percent of the inventory on his cars is still available.

BACK ON TOP

Denny Hamlin's No. 11 Toyota was the fastest car in Friday's opening Cup practice. Then, because his team mistakenly ran racing tire pressures instead of qualifying tire pressures for Friday's time trials, Hamlin qualified 32nd. In Saturday's two practice sessions, however, Hamlin was back on top of the speed charts at 131.656 mph and 132.053 mph, respectively, suggesting that a run through the field is likely on Sunday. . . . Dale Earnhardt Jr. was pleased with changes made to his car during Saturday's final practice. With 22 minutes left in the session, Earnhardt, who qualified 14th for Sunday's race, radioed to crew chief Steve Letarte, "Pretty easy to drive, considering what I've been driving all weekend -- just a little snug." Earnhardt was tied for ninth-fastest in the session, matching the speeds of Hendrick Motorsports teammate Jimmie Johnson and Kevin Harvick (130. 959 mph).
---
---