Thu., May 2, 2013
Sunset Speedway to host UAS for first time in track's history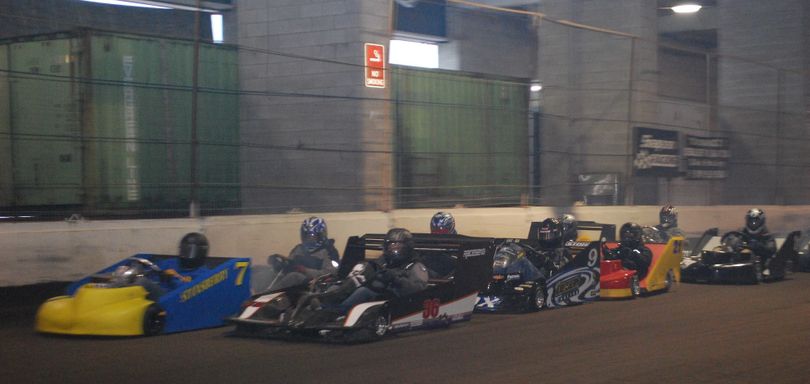 Sunset Speedway, located on the grounds of the Spokane County ORV park in Airway Heights, hosts the premier dirt go-kart series in the region this weekend for two exciting days.
Source: NWUAS Public Relations
May 2, 2013 (Airway Heights, WA) – Ayrton Senna said the purest form of motorsport is kart racing and the most extreme version of dirt, oval kart racing will be on display this Saturday night at the Spring Fling hosted by the Sunset Speedway in Airway Heights, WA. Local classes will be joined at this event by the Northwest Unlimited All-Stars, a traveling group which is in town to kick off the 2013 schedule.
The Unlimited All-Stars (UAS) is a group that formed with the intention of reviving the "Open" class, which for decades meant any motor combination up to 200cc. The UAS rules strive to create a more level playing field by requiring different weights for different motor combinations; the result has been a resounding success and harkens back to the days of the Indianapolis500 where innovation and unique motor combinations were almost as entertaining as the racing.
On hand this weekend will be one of the most decorated and exotic UAS creations, the driver from Oregon City, OR, Wayne Felch in his dual motored Honda powered entry, with a power to weight ratio exceeding a Formula 1 car, and almost as much carbon fiber. Felch claimed his second consecutive BK5 Memorial race held in Salem this past January, but is ready to get the 2013 NWUAS summer season underway. "This group is a blast to race with and even with all of the different motor and chassis combinations the racing is extremely close throughout the field," shared Felch.
Also in attendance will be the director for UAS Washington, a past competitor in the famed Dick Wilskey dirt sprint car on tracks throughout the Northwest, and a many time dirt karting champion, Ron Cox. "The UAS was built on the principles of Ingenuity, Camaraderie and Sportsmanship and with that clearly defined at the outset, this group has grown and allowed for not only a resurgence of speedway kart racing, but has attracted new families into the world of karting." Cox will debut his latest creation, the green and white UCR #9 kart.
Also expected to attend are Eric Stansberry of Vancouver, WA, Shane Smith of Lynwood, WA and perennial front runner Renee Angel, a regular in the Focus Midget ranks at Elma Speedway. Other touring drivers are expected to also attend, but locals will have several drivers to root for with Mike Storer and Dan Watkins competing, both from Davenport, WA.
Bring the whole family to the track on Saturday, May 4
th
to watch family racing at it's finest. Qualifying will begin at 1:30 pm with the local non-UAS classes beginning their racing at 5 pm which will feature kids as young as eight years old competing. The NW Unlimited All-Stars will take to the track at 7 pm. For additional information on the Spring Fling event please contact Mike Storer at 509-954-9026 or visit
www.sunsetspeedway.org
.
The 2013 Northwest Unlimited All-Stars Schedule:
May 3-4 – Sunset Speedway, Spokane, WA
June 1 – Castle Rock Speedway, Castle Rock, WA
June 7 – Willamette Speedway, Lebanon, OR
June 8 – Albany Speedway, Albany, OR
August 10 – Rainier Speedway, Rainier, WA
---
---