Thu., April 10, 2014
Nobody wants the domain Spokane.com? What would you offer to buy it for?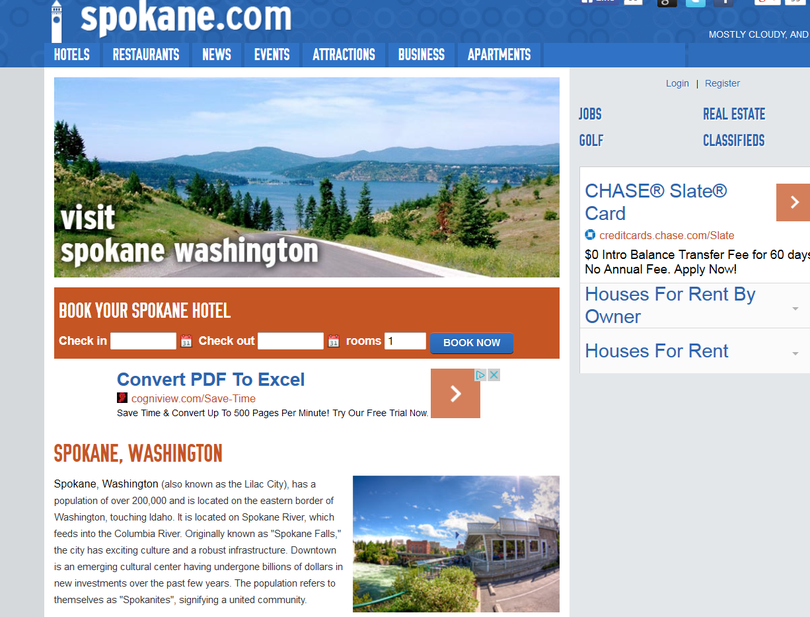 News alert: No one offered to buy the domain Spokane.com in a recent online auction. No bids came in.
The owner set starting bids at $125,000, hoping to hit a reserve price of $250,000.
That's apparently too high. No one made a single bid, said Aron Meystedt, who runs a division of Heritage Auctions, which ran the recent auction. The auctioneer is based in Dallas.
The auction ended April 9. The listed owner lives in Hilton Head, SC. He owns a domain company, meaning that his firm owns a fair number of other domains.
As a result the owner has sent the property to a buy-it-now sale at the following link.
There the buy-it price is a staggering $287,500. The owner also offers a "make an offer" option.
Meystedt emailed the SR saying the domain is regarded (by some) as potentially worth a lot.
He said, by email, "The major city .com domains are selling for 7 and 8 figure amounts (Dallas.com, Chicago.com, Boston.com). Spokane.com is a fraction of these amounts."
Yes, but what fraction would that be?
What do you think Spokane.com is worth? Keep in mind the best likely use for a domain like this would be for some tourism-related, location-promotional kind of organization. Trouble is, the organizations that do that kind of work already have established and successful URLs. Why would they even want Spokane.com?
Note: The Cowles Co. (publisher of The Spokesman-Review) owns the domain Spokane.net. It has never owned Spokane.com.
---
---