Thu., Sept. 24, 2015
Fire-related access restrictions change in Kettle Range, CdA drainage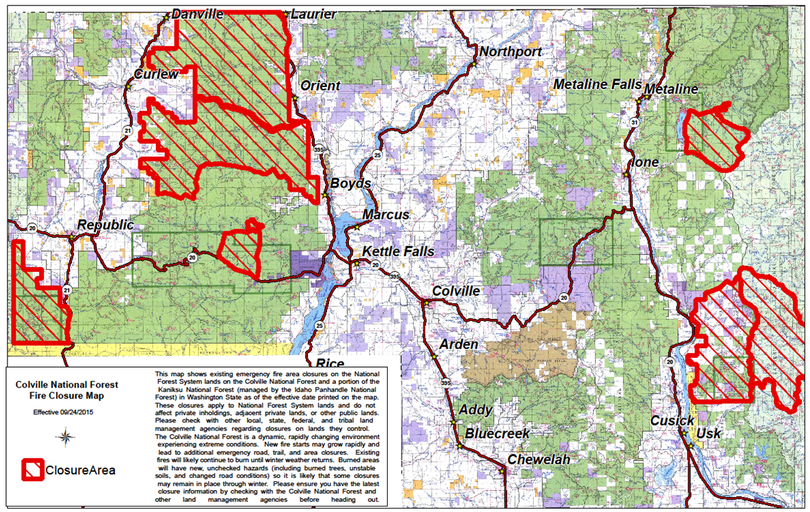 PUBLIC LANDS -- Wildfire activity has decreased allowing more access to a portion of the Kettle Crest in northeastern Washington today. However, fire activity has increased in North Idaho, prompting new road and trail closures in the Coeur d'Alene River drainage. Read on for Forest Service notices posted this afternoon.
IDAHO PANHANDLE NATIONAL FORESTS
The recent shift back to warmer and dryer conditions is causing several area fires to increase in activity, resulting in visible smoke and minor fire spread. On the Grizzly Complex, located in the North Fork Coeur d'Alene River drainage, increased fire spread has resulted in additional emergency trail and road closures in order to provide for public safety. Effective immediately an emergency closure has been issued for Forest Road 804, also known as the Miners Creek Road. Additionally, Forest Trail 81, near the Little Guard Lookout Tower has been closed due to fire activity.
Local communities and forest visitors throughout north Idaho should expect to see smoke, road closures and burned areas in many locations as most remaining fires are expected to continue burning until steady rain or snow finally extinguishes them. These ongoing fires require forest visitors to exercise caution near burned areas and active fires. Members of the public are strongly urged to take closures seriously due to the high potential for serious injury or death due to falling trees and active fire within the closed areas.
Some of the most active fires remain in the Grizzly Complex, which has burned approximately 19,000 acres this year resulting in several road and area closures in the area. Although the fire has not destroyed any structures, it did burn into the Settler's Grove of Ancient Cedars in late August 2015 causing significant damage to many of the trees. The stand was not completely burned, but many trees remain unstable and are continuing to fall without warning. Due to the unstable nature of this area the Settlers Grove will remain closed until the area is safe for visitors. This closure is expected to last until at least spring 2016.
As fire activity fades, and areas, roads and trails are determined to be safe, the Forest Service will continue lifting emergency closures. At this time only a handful of roads trails and areas remain closed to public access due to ongoing safety concerns. For an up to date listing of closures and closure maps, please visit the Idaho Panhandle National Forests website.
COLVILLE NATIONAL FOREST
Due to decreased fire activity and firefighter traffic in the Kettle Complex Fires, a portion of the large emergency wildfire area closure has been lifted for the Three Rivers and Republic Ranger Districts. Portions of the Kettle Crest area closure north of Highway 20, near developed and undeveloped recreation areas have been lifted effective immediately. The area closure that spanned the entire northern portion of the Kettle Crest from Highway 20 north to the Canadian border has been in place since August 17.
The area north of Highway 20, south of South Boulder Road and west to the Old Stage Trailhead is now open to public access with the exception of the Graves Mountain Fire area and Renner Lake Fire area. South Boulder Road remains closed to public access due to continued fire suppression and rehabilitation activity.
The area surrounding Graves Mountain from Highway 20 north to the Deadman Creek Road and Lane Creek to the east remains closed to public access (see attached maps). Popular areas such as Jungle Hill; Wapaloosie; Davis Lake; Hoodoo Canyon Trailhead; Trout Lake; Alligator Ridge and Copper Butte Trailhead are open to public access.
It is important to note that while the Boulder Creek Road (County Road 602) and Deadman Creek Road (FS Road 956500) remain open, there are areas on either side of these roads that remain closed to public access.
Trails and roads leading into the interior of burned areas will remain closed to public access through the winter to allow time for winter snow to fully extinguish the fires and bring down any additional loose trees damaged by wildfire. Prior to venturing into the woods for hunting or other recreational activities this fall, forest visitors are strongly encouraged to view maps of existing area closures and the roads and trails that lead into them to ensure they are not unknowingly venturing into a closed area. Maps and specific descriptions of the closed areas can be viewed by visiting your local Forest Service office, and online at the Colville National Forest website.
---
---