Thu., Dec. 10, 2009
Lawyer: Blame it on the caffeine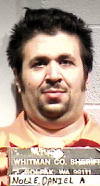 The Idaho motorist accused of striking down two pedestrians on the Washington State University campus may be suffering from "caffeine psychosis," his lawyer said.

The lawyer for Dan Noble, 31, (right) of Moscow, said Tuesday that his client was known to consume large amounts of energy drinks and Starbucks coffee.
Attorney Mark Moorer described Noble as a financial analyst in the University of Idaho Trust and Investment Office who worked long hours. Attorney Mark Moorer told Whitman County Superior Judge David Frazier that the caffeine could have accounted for Noble's strange behavior.
Frazier ordered Noble held without bail until his mental state can be evaluated.
Read the rest of the Associated Press story here.
---
---