Tue., May 26, 2009
SPD's newest addition: Ajax the puppy
A Pullman man inspired by the shooting of a Spokane police dog has given the department a German Shepherd puppy.
Nick Lungu breeds and trains the dogs for his business I-Guard International. He sells the animals for as much as $2,500 each but gave the Spokane Police Department first pick out of his latest litter after reading of the March shooting of Var, a longtime police dog.
Var left the force after police say Johnnie L. Longest III, 22, shot the dog before being shot to death by Officer Dan Lesser, Var's handler.
The police investigation into that shooting is complete and was recently sent to the Spokane County Prosecutor's Office, which will make a decision on charge, Lt. Dave McGovern said last week.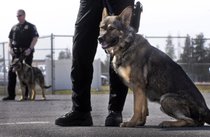 Var was awarded the police department's Purple Heart last month.
Var's replacement, Rav (featured left in an April photo by the SR's Christopher Anderson), arrived from Holland in March.
The puppy, named Ajax after the mythological hero, will be raised by Officer Jay Kernkamp as part of the Spokane police K-9 unit's puppy program.
"This program, due to its careful selection process, has been extremely successful in producing some of the regions finest police service dogs," according to a news release prepared by Officer Kevin King.
Ajax will follow a "detailed" training regimen that includes tug of war, socializing, simple obedience, environment exposure and lots of play in the early months, King wrote.
"Although only weeks old Ajax is showing promise and has the potential to be one of Spokane's finest someday," the news release said.
---
---