Gorton named to redistricting panel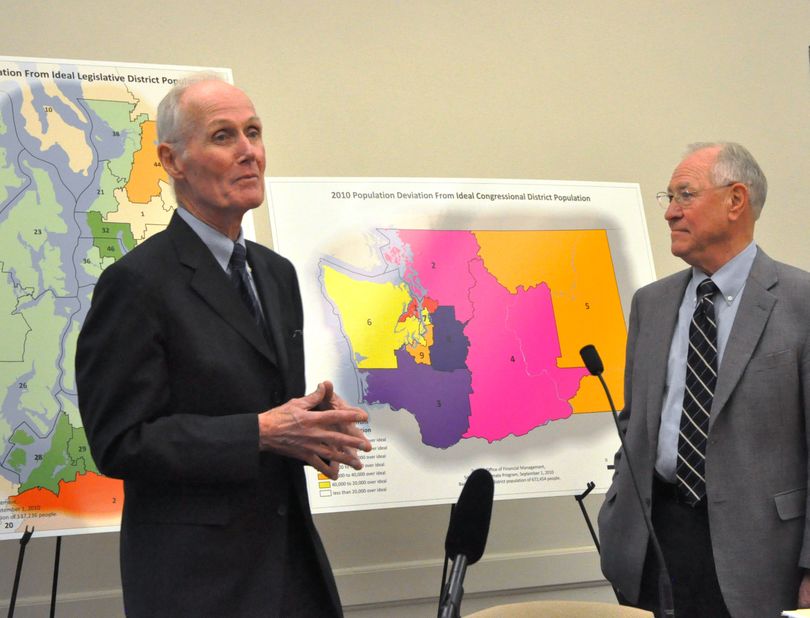 Slade Gorton and Tom Huff in front of maps of the current congressional and legislative districts.
OLYMPIA -- Former U.S. Sen. Slade Gorton was named today to the panel that will redraw congressional and legislative boundaries because of the state's population growth.
Gorton, a three-term Republican senator and former state attorney general, was selected by Senate Minority Leader Mike Hewitt for a seat on the Redistricting Commission. Former state Rep. Tom Huff, R-Gig Harbor, was named to the panel by House Minority Leader Richard DeBolt.
They join Democratic appointees Dean Foster, former clerk of the House and a member of the 2001 redistrcting commission, and Tim Cies, former deputy mayor of Seattle. The four appointed members select a fifth commissioner to serve as the non-voting chairman.
As a legislator in the 1960s, Gorton was in the middle of a highly partisan fight over redistricting that tied up the Legislature for more than a month. Out of that fight came a state constitutional amendment that established the commission with appointees from each of the four legislative leaders and a non-voting chair. " don not believer there is any state...that does its redistricting in a better fashion," he said.
Washington will gain a seat in the U.S. House of Representatives, and all nine of its current districts have too many people. It's too soon to tell where the 10th seat will go, but Eastern Washington will gain in the redrawing, Gorton said. Right now, two of the nine districts are located east of the Cascades. Because of population growth, one more district will either have to take in voters on both sides of the Cascades or extend up the Columbia River into Eastern Washington, he said.
---
---