Wed., Feb. 6, 2013
Library campaign reports $21,000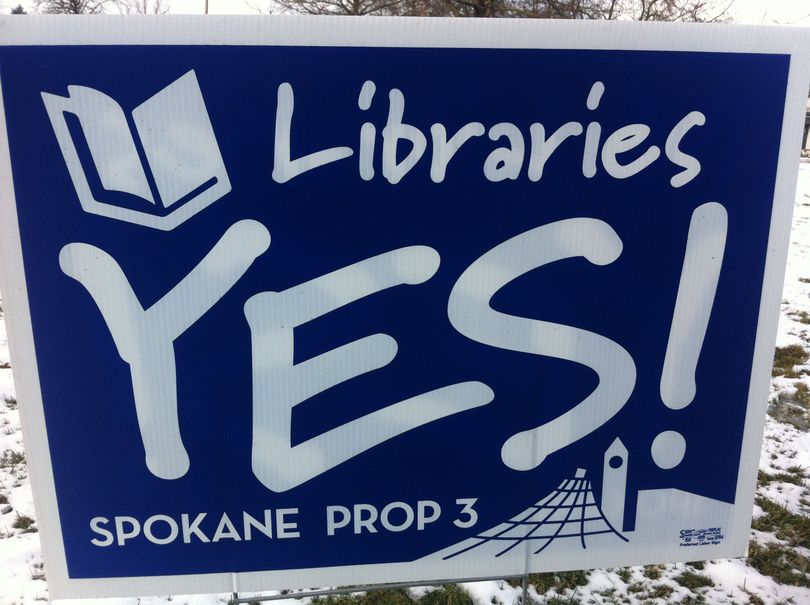 The campaign in support of the library tax in Spokane has fixed campaign disclosure problems with the state Public Disclosure Commission.
The group, Yes for Spokane Libraries, was late in reporting campaign contributions and spending by several weeks. Last week, it filed reports showing how much it has raised and spent.
Campaign manager Nathan Smith, who also is a Spokane Public Library trustee, promised quick action last week to update campaign finance reports. He said that the group misinterpreted the rules.
The group was formed in support of Spokane Proposition 3, a library lid lift that would increase taxes for libraries by 7 cents for each $1,000 of property value to prevent branch closures.
As of this morning, the campaign hasreported nearly $21,300, including seven donations over $1,000 or more:
- $5,000 from the Friends of the Spokane Library.
- $5,000 from Washington State Council of County and City Employees – the American Federation of State, County and Municipal Employees union that represents many of the library's workers.
- $4,000 from EveryLibrary, a recently created nonprofit group in Chicago that backs library bonds and levies nationwide, according to its website.
- $2,500 from Avista Corp.
- $2,500 from the Spokane Firefighters Union.
- $1,000 from Global Credit Union, which is led by Jack Fallis, a Spokane Public Library trustee and the treasurer of Yes for Spokane Libraries.
The group has reported spending about $14,500 of its money so far. More than half was on a campaign flyer that arrived in mailboxes about the same time as ballots.
---
---