Mon., July 1, 2013
Legislative session: Later 'gator, it's a new fiscal year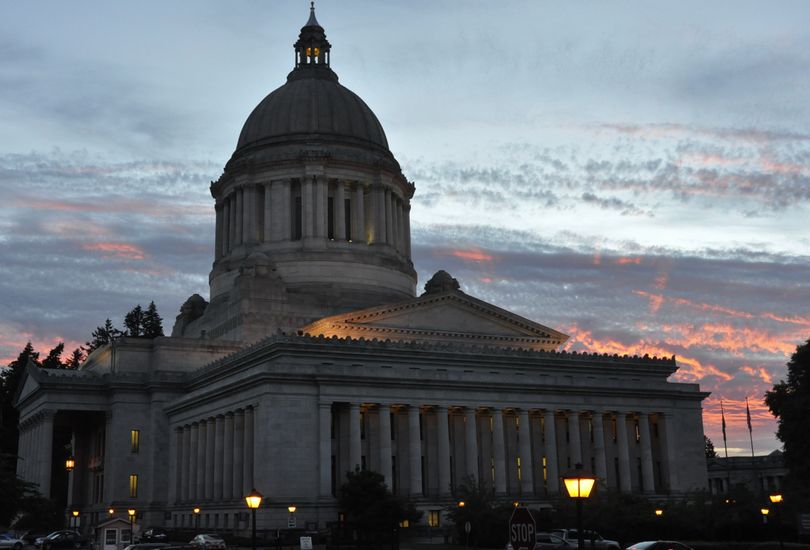 OLYMPIA – The state started its new fiscal year Monday with lower taxes on some beers and services, more than a dozen new tax breaks for businesses, and a little protection for a worker's social media account.
It also started without a partial government shutdown, averted when the Legislature passed a two-year, $33.6 billion operating budget that has the authority to spend money as well as collect it in taxes and fees. . .
. . . Work will begin later this year on some $3.6 billion in large construction projects. Gov. Jay Inslee Monday signed the state's Capital Construction budget, which passed the Legislature in the closing hours Saturday.
It won't begin any time soon on the Columbia River Crossing, a new bridge for Interstate 5 to connect Vancouver and Portland. Money for that was part of a transportation package that depended on a 10.5 cent gasoline tax increase; it died on Saturday without a vote in the Senate, something Inslee dubbed disappointing.
The state will close the office that was planning the bridge project, Inslee said. "There is no money for work on this bridge."
Washington and Oregon will lose the $850 million offered by the federal government if things don't change by September, and he left the door open only the narrowest crack to call a third special session to address transportation.
"If the Senate would allow a vote (on a package) it would be possible," he said. But he had no plans to call another special session.
Despite a wide array of proposals to raise some broad-based taxes like the gasoline tax, or swap some for an income tax, the Legislature's tax-raising efforts were confined to adding certain people to the state's estate tax, and expanding the sales tax on cellular phones to landlines.
Two temporary taxes ended Monday because the Legislature ultimately decided not to extend them. A surcharge on the B&O tax on some service businesses and a surcharge on large, mostly out-of-state breweries was passed as a temporary measure in 2010 to help the state get through the recession. The state's improving revenue outlook quieted calls from Inslee and House Democrats to extend them to help pay for improvements to public schools. Budget writers found a way to add $1 billion for public schools and freeze tuition at state colleges and universities without those taxes.
For all the talk early in the session about "closing loopholes" or ending tax preferences the state gives certain businesses in hopes of boosting employment, those efforts mostly fell flat. Instead, the Legislature approved 16 new or expanded exemptions in the final days of the session.
Among them: An exemption for certain dairy products from the business and occupation tax in hopes of drawing a new infant formula facility to Centralia; exemptions from sales tax for clay targets shot at shooting ranges, on wood-chips used by restaurants to flavor their food, on propane used for mint oil stills, for cover charges at places allowing patrons to dance, for items purchased at small non-profit fundraisers, and for repairs to large airplanes brought in for fixing by out-of-state residents.
It didn't pass an exemption for churches and other nonprofits for the proceeds from pancake feeds and sausage festivals, but Sen. Mike Padden, R-Spokane Valley, said legislators are sending the Department of Revenue a letter saying it was never their intent that such things be taxed. If that doesn't clarify things, the Legislature could take it up next year.
Employees got protection for their social medial accounts from their bosses. A new law says they don't have to turn over their passwords to employers or prospective employers.
Off-road vehicle riders will get a break later this month allowing them to take their vehicles on roads. They'll be able to drive their wheeled all-terrain vehicles from parks into towns if they obtain a metal tag with an annual registration fee of $12.
Rep. Matt Shea, R-Spokane Valley, said the new law should have an economic impact by drawing to Washington parks ORV riders who have been traveling to Idaho or Oregon, where they could already drive on public roads.
A couple thousand bills are introduced each session, and only a few hundred pass. Among the bills that didn't make it through the entire process were proposals on expanding abortion rights and expanding background checks for gun sales.
Background checks for private gun sales didn't pass either chamber. A proposal that all insurance companies covering maternity services also cover abortion, dubbed the Reproductive Parity Act, passed the House but died in the Senate.
It was supported by Inslee in his inaugural address, support he reiterated at the beginning of the first special session. The parity act and others will be back, he predicted Monday, in another year, another session.
---
---