Mon., Jan. 27, 2014
Giffords to testify at gun initiative hearing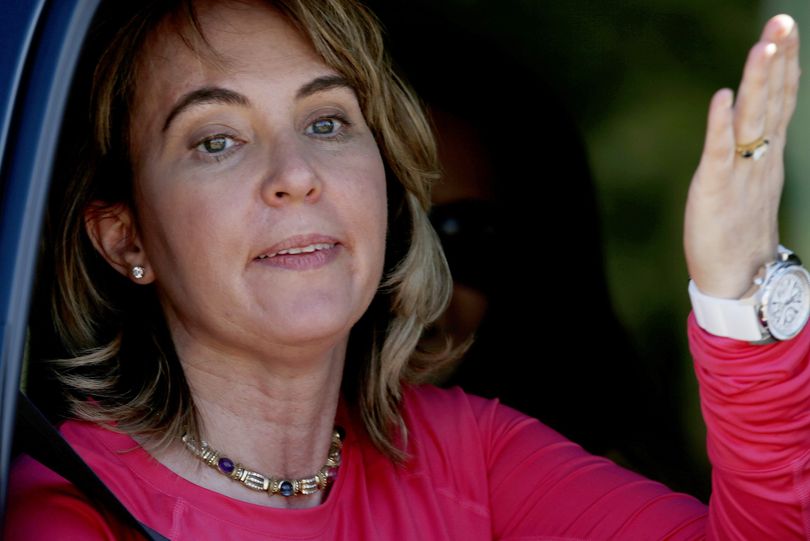 Gabrielle Giffords waves to reporters earlier this month at an event to mark the third anniversary of her shooting in Arizona.
OLYMPIA -- Former U.S. Rep. Gabrielle Giffords, who survived a shooting rampage that killed six, will testify in favor of a proposed initiative to require broader background checks for gun purchases.
Giffords and her husband, former astronaut Mark Kelly, are expected to testify in favor of Initiative 594 at a hearing of the House Judiciary Committee Tuesday afternoon.
The committee is holding a hearing on both I-594, which would extend the current requirements for background checks on purchases from dealers to most public sales, and I-591, which would only allow broader background checks if the federal standard changes. Both proposals gathered more than 340,000 signatures in campaigns last year. I-594 has already been certified as an initiative to the Legislature and I-591 is in the middle of the having signatures verified but is expected to be certified soon.
Under state law, the Legislature could pass either into law. But it is expected to pass on both, sending the two measures to voters on the November ballot.
Giffords was severely wounded and six people were killed when a gunman opened fire on a congressional gathering in her Tucson, Ariz., congressional district three years ago. She and Kelly formed Americans for Responsible Solutions to help reduce gun violent after the Sand Hook Elementary School shooting in 2012.
The House Judiciary Committee's hearing is at 1:30 p.m. Tuesday. The Senate Law and Justice Committee also will hold a hearing on the two measures starting at 1:30 Wednesday. Both are expected to attract a wide range of supporters and opponents of the conflicting initiatives.
---
---