Wed., Aug. 3, 2016
Odd election night math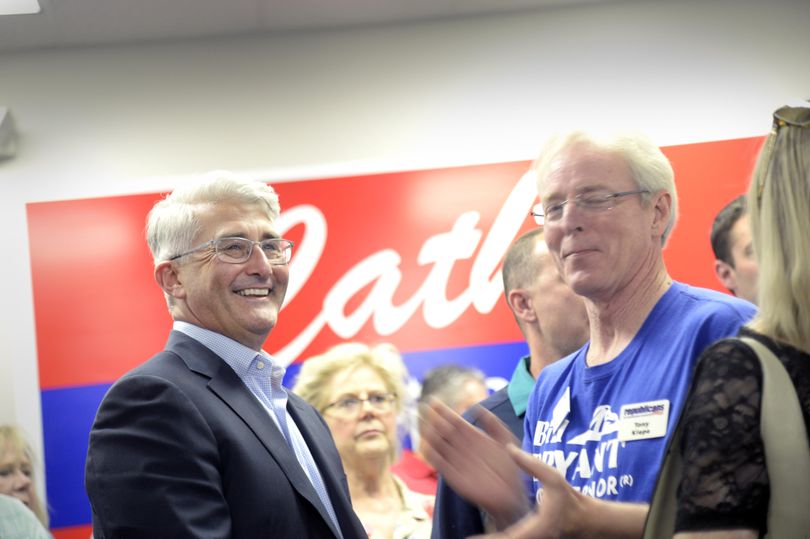 Reacting to the state primary results in Spokane Tuesday night, Republican Bill Bryant's campaign came up with an interesting way to spin the numbers that showed him 10 percentage points behind Democratic Gov. Jay Inslee.
First, Inslee was under 50 percent (if just barely at 48.5 percent) so that was a vote of "no confidence." And if one combines the Bryant vote with "the two Republican Bills", the campaign said, it was really 42 percent to 48 percent.
Huh?
Bill Hirt was another Republican running for governor. The retired Boeing engineer who didn't campaign much got 4 percent. Spin Control knows of no formula that allows one candidate to add on the votes of another with a shared party and first name. If we started doing that,where would we stop? Would we have to give Inslee the votes of the two Democrats whose names start with J?
A slippery slope indeed.
But the suggestion that a showing under 50 percent in the primary spells trouble in the general election does not hold up under scrutiny, either. In 2008, incumbent Chris Gregoire got 48.3 percent of the vote compared to Dino Rossi's 46.4 percent; Gregoire won the general. That's the only Top Two primary with an incumbent governor, so there's not much of a pattern there. But there is a pattern in gubernatorial primaries over the last 40 years. See if you can figure it out:
2012 Inslee 47 percent, Rob McKenna 43 percent
2008: Gregoire 48.3 percent, Rossi 46.4 percent
2004: Gregoire 38.7 percent, Rossi 34.1 percent
2000: Gary Locke 54.3 percent, Carlson 34.5 percent
1996: Locke 23.7 percent, Ellen Craswell 15.3 percent (15 candidate race)
1992: Mike Lowry 29.2 percent, Ken Eikenberry 22.4 percent (11 candidate race)
1988: Booth Gardner 57.6 percent, Bob Williams 20.1 percent
1984: Gardner 46.1 percent, John Spellman 26.2 percent
1980: Jim McDermott 33 percent, Spellman 16.7 percent
1976: Dixy Lee Ray 24.1 percent, Spellman 21.8 percent
Before 2008, the state had a blanket primary, so the top Democrat and the top Republican advanced to the general election, regardless of how big their percentage. Minor party candidates could qualify for the general election, too, if they got enough votes.
That pattern is that except in 1980, the candidate with the most votes in the primary won the general election. And if the state had the Top Two primary back then, Spellman wouldn't have gone to the general because he actually finished third in the primary, but Ray, the incumbent Democratic governor, finished behind McDermott, who was then a state senator. So she was out, Spellman was in, and he beat McDermott in the Republican surge of 1980.
---
---