Weeding out a critical issue late in session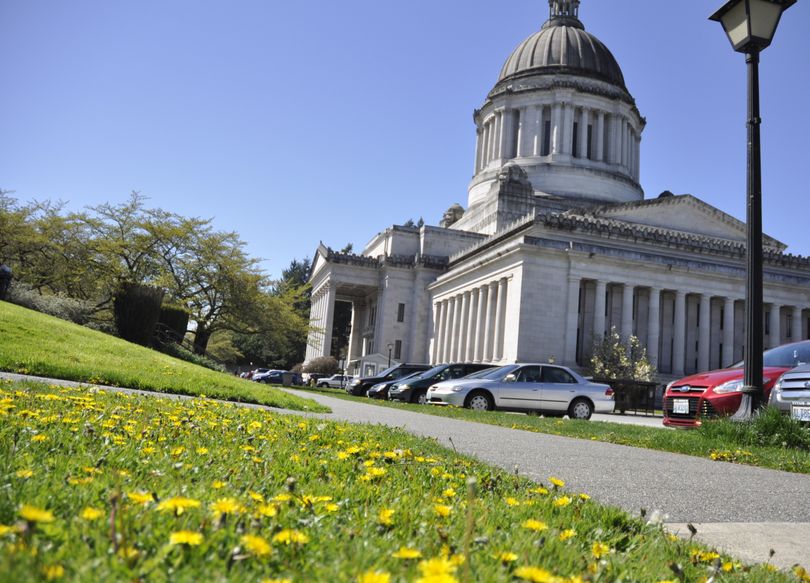 OLYMPIA – In the closing week of a legislative session, lawmakers usually take up important topics: Crime, roads, taxes.
Dandelions.
So it was in the Senate Ways and Means Committee last week, as the panel in charge of deciding taxes and spending for at least $43 billion in state programs and salaries for the next two years decided to dive into an issue apparently weighing long and heavily on the minds of some Republican members.
The Capitol grounds, they said, were in shabby shape. The leaves weren't raked with any regularity in the fall and winter, and now the lawns are overflowing with dandelions. Majority Leader Mark Schoesler, R-Ritzville, said looking around the grounds as a citizen he was "absolutely embarrassed". He wondered why the lawns by the Supreme Court building get mowed first and dome was so dirty, why the parking strips haven't been painted.
Senate Republicans' solution: Create a special committee of legislators to hire and fire the head of the Department of Enterprise Services, the agency in charge of the 468-acre Capitol grounds, and to approve anything more than itty bitty changes to the campus. Because, you know, a committee of legislators is the way to solve almost any problem.
"I've never seen weeds in the Capitol lawns worse, a lack of mowing. I've never seen the bulbs planted less properly, mold growing off our buildings. I've never seen this campus looking so bad," Schoesler said. "We really aren't getting anything for our dollar, and no input in it."
Sen. Mike Padden, R-Spokane Valley, also weighed in: "In all the years I've been here, I've never seen so many dandelions, all over. Is it your policy not to treat dandelions?"
No, said Chris Liu, current department director. They use herbicides but over the years have looked for more natural ways to treat the weeds to cut back on the expense. Lawmakers may be seeing more dandelions because of the latest treatments, but that should even out as the weed control plans evolve.
Does the department ever talk to experts on lawn management? Sen. Jim Honeyford, R-Sunnyside, asked.
It actually has its own expert, a professional horticulturalist, said Deputy Director Bob Covington. The grounds-keeping budget got a 26 percent cut in 2009, he said, and that money hasn't been restored. That's when the standard of care dropped below pristine for the campus.
"If we want this place to look nice we need to pay for it, or we need to organize a pretty intensive volunteer effort," said Sen. Christine Rolfes, D-Bainbridge Island.
Can you use volunteers to do work on campus? Sen. Randi Becker, R-Eatonville, asked. She'd be willing to bring her riding lawn mower and husband in to work on the lawns. "I have never seen (a state capital) look like this."
The campus has volunteers who plant and tend dahlias in the sunken garden, but he'd have to check with the union about lawn mowing, Covington said.
"If I bring my backpack sprayer and spray the dandelions will I get in trouble with anyone?" Honeyford asked. Look that up and get back to us, Committee Chairman John Braun, R-Centralia, told the department officials.
Sen. Mark Miloscia, R-Federal Way, who is a big fan of studies and data to determine whether things are running properly, wondered if the department had a survey to assess the satisfaction of its primary customers on the campus – like the legislators – and how well its staff is performing. "Do you have a metric?"
Yes they do surveys and have daily meetings with staff on performance, Covington said, but Miloscia made it clear those weren't the metrics he was seeking.
How is the organizational chart structured? Sen. Sharon Brown, R-Kennewick, asked.
After spending about 25 minutes on how the state should or shouldn't be handling its grass and dandelions, the Senate budget committee moved on to other issues. The bill didn't come up for a committee vote later in the week, so it's likely dead, having served its purpose which seemed to be to give Senate Republicans a chance to kvetch at their groundskeepers' bosses.
To be clear, the Capitol Campus is a gem that is important to keep polished for the whole state, and it has looked better. One bit of positive information from the hearing was the department has abandoned its "Ecolawn" experiment on the main campus, which consisted of letting the grass and weeds grow. It meant one corner of the grounds began to look like an African savannah.
But in their zeal to improve the optics of the campus, Senate Republicans may have inadvertently handed the Democrats an optic in the war of words over who's responsible for the current budget stalemate.
"The Republicans willingness to negotiate on dandelions, I would hope, would be transplanted to a willingness to negotiate a school budget," Gov. Jay Inslee said the next day.
---
---