Saturday's highlights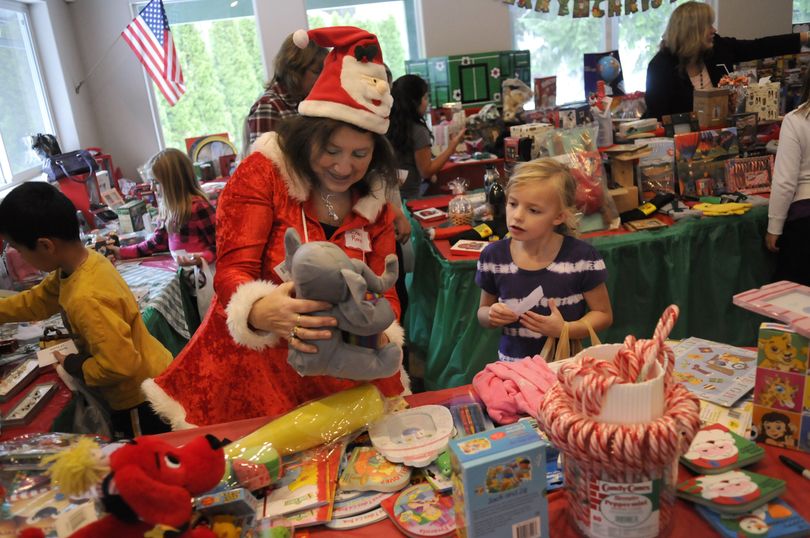 Pasadena Park Elementary volunteer Cheri Reed helps third-grader Grace Peters find the perfect gift for her family at the Scholar Dollar Christmas store, which she organizes. SR photo/Bart Rayniak
Now that we're all up on this fine Monday morning and on our first (or second) cup of coffee, it's time to take a look at some highlights from Saturday's Valley Voice in case you missed it. Spokane Valley Fire is heading up a new ambulance contract that includes nearly every fire department and district in the county. Response times are down and some tweaks are being made to the contract to make it better.
A volunteer grandma at Pasadena Park Elementary spends her December running the Scholar Dollar store for children who have earned points by reading. They can spend their points on Christmas gifts. Spokane Valley Partners is not having a Season of Sharing this year due to budget cuts.
An audit of 2009 records shows no problems for the City of Spokane Valley, according to auditors. However, the city is dealing with a criminal case against a former employee for theft of city money. Millwood residents will see increases in their water and sewer rates beginning Jan. 1. And at Tuesday's Spokane Valley council meeting, deputy mayor Gary Schimmels will recommend that the council appoint the mayor's half-brother to the planning commission.
---
---