Saturday's highlights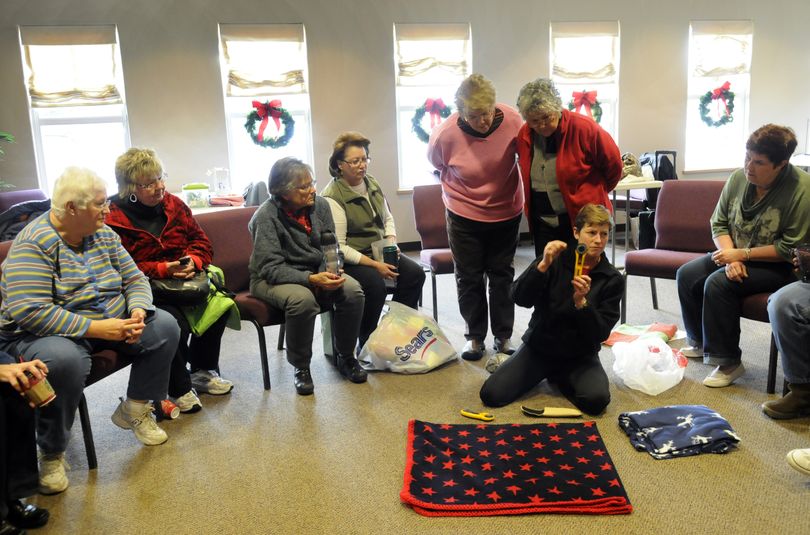 Erin Haugh shows a group of the Valley Assembly Quilters a tool that she uses to punch holes on the edge of a quilt in preparation for lacing or crocheting. The group meets in a donated room at the Valley Assembly of God, shares a common interest in quilting and provides quilts to Providence Sacred Heart Medical Center's cancer unit. SR photo/J. Bart Rayniak
Saturday's Valley Voice highlights are a day late this week because of the holiday, but there are still some good stories to check out. Reporter Lisa Leinberger visted with a group of quilters at Valley Assembly of God Church. They make quilts for cancer patients and have made 700 quilts in five years.
The Spokane Valley Hearing Examiner has ruled that the developer of a proposed Fourth Avenue Townhomes project near Shelley Lake must go back to the drawing board until the proposal complies with a development agreement that was negotiated with the city. That decision has relieved neighbors who complained about the plan and said it violated the agreement.
There are also some tips on how to avoid locking your kids inside the car, which seems to be a particular issue for Spokane Valley residents. The fire department usually responds at least once a week to a report of a child locked inside a car, sometimes more. Correspondent Steve Christilaw has a story about Central Valley High School senior Gaven Deyarmin, who plays football and basketball for the school.
---
---