Mon., Oct. 24, 2011
Saturday's highlights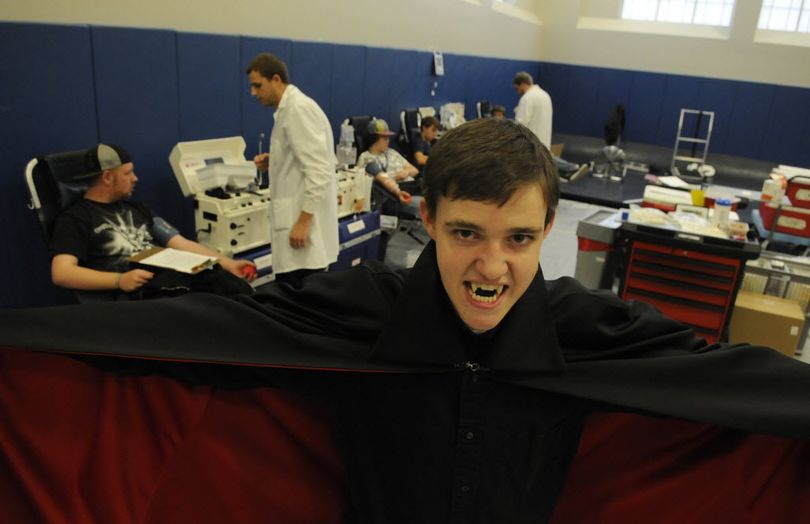 Dracula (Michael Ashton Toth) was found lurking around the Dracula Blood Drive at Central Valley High School on Oct. 17. More than 80 students, faculty and community members participated and received a $3-off coupon to CV's"Dracula" for donating. SR photo/J. Bart Rayniak
We brought you news from nearly every corner of the Spokane Valley area in Saturday's Valley Voice. Reporter Lisa Leinberger has information on Central Valley High School's upcoming performances of "Dracula." The star of the show turned up at a blood drive at the school recently.
We also have a bunch of election stories. Lisa put together a Q&A with the candidates for Liberty Lake Mayor. There are also stories on the Marilyn Cline/Ben Wick Spokane Valley City Council contest and the council race between Dee Dee Loberg and Arne Woodard (though Woodard didn't respond to multiple requests for answers to the questions).
Lisa also had a story on the levy discussions going on in the East Valley School District. The district is considering running a levy in February to pay for things like music programs, libraries, counselors, sports programs, AP classes and more.
The Spokane Valley City Council heard a report last week on the Parks and Recreation Department's policies on allowing car shows in city parks. They also discussed city entrance signs and where to put them.
---
---