Saturday's highlights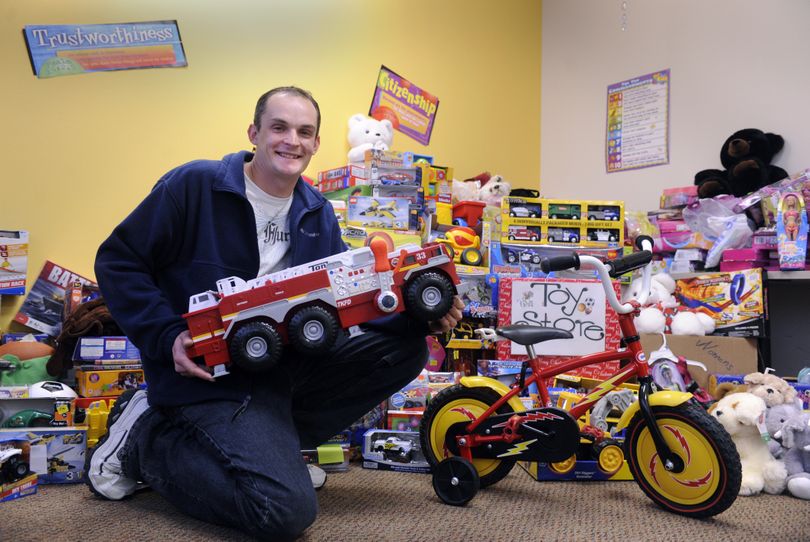 Luke Pillsbury, director of youth ministries for Opportunity Presbyterian Church on Pines Road, sits with some of the toys for the church's toy store, where community members who are invited can get toys at a deep discount. SR photo/Jesse Tinsley
Welcome to a snowy, somewhat slippery Monday morning. We brought you some good stories in Saturday's Valley Voice, so lets look at some of the highlights. Opportunity Presbyterian Church opened its toy store for business Saturday, carrying on an annual tradition of providing extremely low cost toys to low income residents. The store, which is organized by the church youth, has been growing every year.
A Newman Lake woman was recently charged with animal cruelty after someone reported buying a sick puppy from her Iron Horse Kennel on Hauser Lake Road. An inspection by SCRAPS animal control officers reportedly showed other violations at the dog kennel as well. The woman, identified as Wilma L. Turner, also has a hearing scheduled for Wednesday on allegations that she has violated her probation after she pled guilty to two charges related to conditions at her kennel in 2011.
Reporter Lisa Leinberger has a story on East Farms Elementary School teacher Elisha Erickson, who was recently given an award by the Spokane Valley Fire Department for taking in two children that were dropped off at a fire station with little information. One of the children was a student of Erickson's. Lisa also has a story on a possible bond vote in the East Valley School District. The school board will meet Tuesday to decide whether or not to run a bond to modernize and repair several schools. Four previous attempts to pass a bond in recent years have failed.
The Spokane Valley City Council had several discussions during its Tuesday meeting, including a draft Shoreline Master Program restoration plan, fee amounts for 2013 and street maintenance and sweeping contracts.
---
---