Saturday's highlights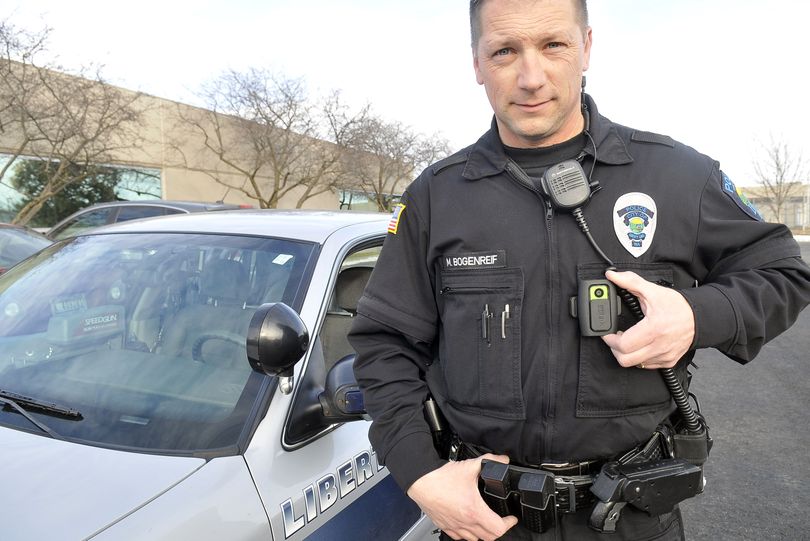 Liberty Lake Police Officer Mike Bogenreif shows the body camera he used during his shift Jan. 27. SR photo/Jesse Tinsley
We had some great stories for you in Saturday's Valley Voice, so here's your chance to check them out if you missed them Saturday. The Liberty Lake Police Department is investigating getting body cameras for its patrol officers. The department spent the last month testing the cameras and were pleased with the results. The story includes videos of two traffic stops recorded by an officer wearing the camera.
Reporter Lisa Leinberger talked to University Elementary School teacher Linda Honn, who will be inducted into the Washington Music Educators Assocation's Hall of Fame. She has been teaching for 29 years and helped develop the elementary music program for the Central Valley School District.
Last week the Spokane Valley City Council debated whether to add railroad quiet zones to the 2012 budget along with a gateway sign at Appleway and Thierman and a swale project on the west end of Sprague Avenue. In a divided vote, the council decided to remove the quiet zones from the list over concerns about the cost.
Also last week the Lodging Tax Advisory Committee met to discuss the second round of funding requests for 2012. The committee's funding recommendations to the city council raised some controversy last year when they didn't recommend funding for Valleyfest. During last week's discussion only two of the five committee members favored granting any funding to Valleyfest. Instead they recommended giving almost all the money the city has available to the Spokane Regional Convention and Visitors Bureau. It will be up to the city council, however, to decide what groups are funded and with how much.
---
---