Mon., July 9, 2012
Saturday's highlights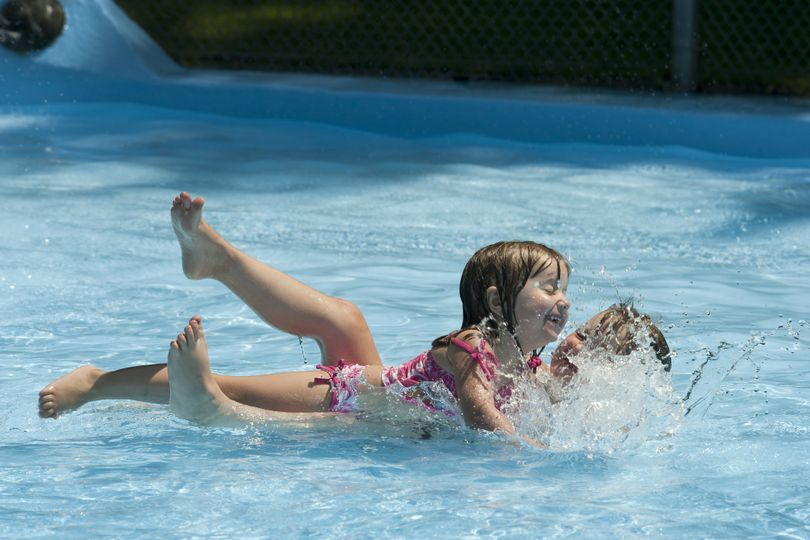 Daisy Hanson and Kelsie Brulotte splash around in the Millwood wading pool Thursday. Community donations made it possible for the pool to reopen after being closed last year. SR photo/Dan Pelle
Sorry I wasn't on the blog Friday. I snuck out for a day off before the high temperatures made me feel like a chicken roasting in the oven. While it's still relatively cool this morning I've got some highlights from Saturday's Valley Voice. Reporter Lisa Leinberger checked in at the popular Millwood wading pool. The city planned to close and destroy the pool, but residents objected and then took it a step further by raising the $10,000 needed to repair the pool. Now kids are again happily splashing away.
The Spokane Valley City Council appointed former planning commissioner Fred Beaulac back to a vacant position on the commission. He will serve out the term of Marcia Sands, who recently resigned. The council also heard a report on a development agreement negotiated with the owner of land on Conklin Road. They previously voted to allow the land to be rezoned as high density residential only if an agreement was reached to increase setbacks and limit density.
Correspondent Steve Christilaw spoke to University High School football coach Rob Bartlett, who is continuing a family tradition of coaching. He now holds the same job as his father did.
---
---