Mon., Oct. 15, 2012
Saturday's highlights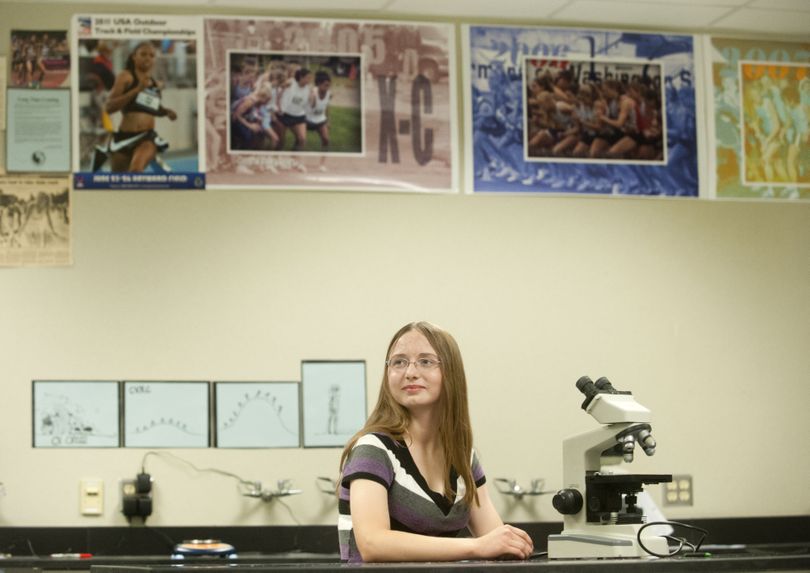 Central Valley High senior Alex Moore poses for a photo on Tuesday in Spokane Valley. Moore will receive the YWCA Young Woman of Achievement Award later this month. She excels in math and science and competes for her school's cross country team. SR photo/Tyler Tjomsland
Sorry this edition of Saturday's Valley Voice highlights is late. My computer didn't want to speak to the network for most of the morning. But now I'm up and running again, so here we go. A new Wal-Mart store is opening on the west end of Spokane Valley on Wednesday. While the ribbon cutting ceremony at 7:30 a.m. may be a bit early for some, the grand opening promotions and samples will continue all weekend.
Reporter Lisa Leinberger has the third entry in her East Farms Diary. She has been spending time at the East Farms STEAM Magnet School that focuses on science, technology, engineering, arts and math. This week's story checks in with volunteers at the school and what they contribute.
Lisa also has a story on Central Valley High School senior Alex Moore, who will recieve the Young Woman of Achievement Award from the YWCA next week. Her list of achievements in school and in the community is quite lengthy.
Correspondent Valerie Putnam reports that the City of Millwood is facing a deficit in 2013. More meetings and public hearings are planned to discuss the issue. Their neighbor, the City of Spokane Valley, voted last week to not take the allowed 1 percent property tax increase.
---
---