Saturday's highlights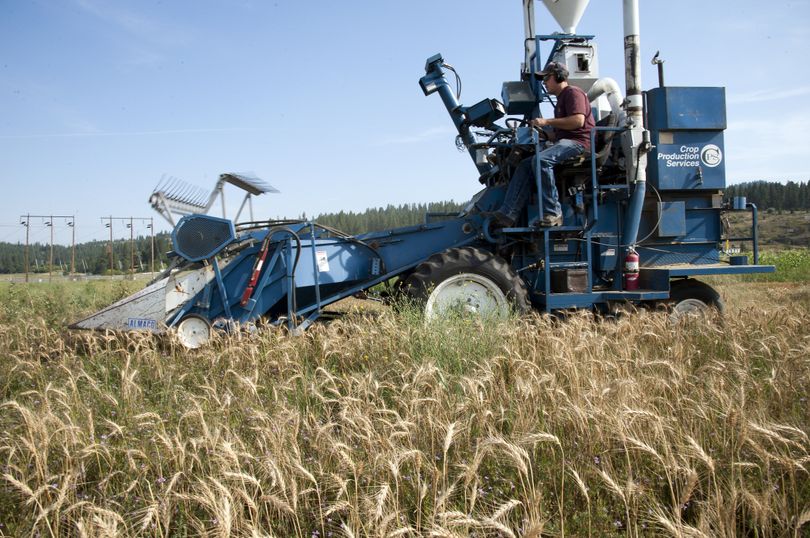 Dan Westacott, of Crop Production Services, harvests wheat at the East Valley Farm and Community Garden on Thursday. SR photo/Dan Pelle
Good Monday morning, everyone. Sorry for ducking out of here unannounced last week. I took a little road trip to Colorado to drop my daughter off at school and forgot to warn everyone that I wouldn't be around. I'm back now, though, and ready with some highlights from Saturday's Valley Voice.
The Millwood City Council has voted to postpone a planned sidewalk project on Buckeye Ave., according to a report from correspondent Valerie Putnam. The bids for the project all came in at least $40,000 higher than expected and the council voted to reject all of them and regroup. The project could still be completed in 2014.
Reporter Pia Hallenberg stopped by the East Valley Farm and Community Garden last week for the farm's first wheat harvest. The farm grows vegetables for the school lunch menu and the food bank. The wheat will be ground into flour and used in the school kitchens.
Correspondent Steve Christilaw has a story on Kayla Mainer, former volleyball player at West Valley High School and current assistant volleyball coach at Central Valley High School. She also plays with Team Evergreen in the Premier Volleyball League.
If you have a pooch that needs grooming, reporter Lisa Leinberger has a story on Debbie's Dog Grooming, which has been in business in Spokane Valley for 40 years. The family owned business even does cats.
---
---