Saturday's highlights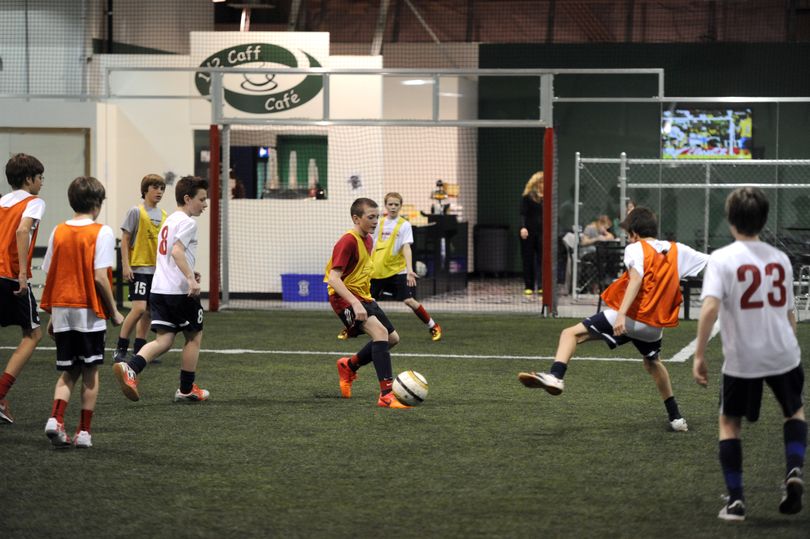 At It's a Soccer Life in Spokane Valley, the Spokane Shadow U13 team practices Monday. The soccer center has an enclosed turf field and a smaller futsal pitch. Weekdays at the center are usually filled with practices and weekends are packed with league play from morning until night. SR photo/Jesse Tinsley
It's a sunny if somewhat nippy Monday morning out there, so lets take a look at some highlights from Saturday's Valley Voice. Correspondent Jill Barville checked out a new indoor soccer facility in the Spokane Valley Industrial Park called It's A Soccer Life. The business opened in January and hosts games and practices for area teams.
The city of Spokane Valley got some input on the future of parks in the city during a public meeting last week looking for input on the city's proposed Parks and Recreation Master Plan. A recent survey showed that local residents are most interested in urban trails, splash pads, outdoor aquatic facilities and indoor recreation facilities.
Reporter Nicole Hensley has a story on the newest West Valley School District board member Adam Mortensen, a 1997 West Valley High School graduate. Richard Chan, husband of longtime Front Porch columnist Deborah Chan, has a column about how he has been dealing with his wife's cancer diagnosis and treatment.
The Spokane Valley City Council spent more than two hours talking about the future of trash in the city during their daylong winter retreat last week. They have teamed up with Spokane County to do a study on the costs of various disposal options in the future.
---
---