Saturday's highlights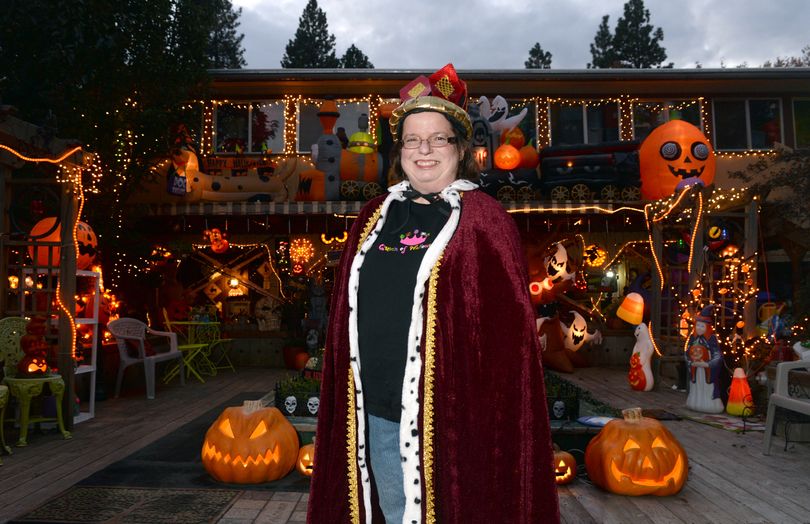 Chris Sheppard dons only one costume on Halloween, a robe, crown and sweatshirt reading "Queen of Halloween." Indeed, her house dominates the neighborhood, with hundreds of whimsical items for the holiday. Sheppard is shown at her home on Bettman Road in Spokane Valley, on Wednesday. SR photo/Jesse Tinsley
Saturday's Valley Voice was packed full of stories (and quite a few election advertisements), so lets get right to the highlights. Reporter Lisa Leinberger stopped by the home of the Queen of Halloween, aka Chris Sheppard. Her home turns into a festival of the orange and spooky every year and this year is no different. She starts decorating the inside of her home in August but waits until September to start putting in the skeleton crawling out of its grave in the yard.
Correspondent Steve Christilaw has a story on the University High School girls soccer team, which is rallying after losing one of its star players in a car crash recently. The team had a small ceremony at their recent home game. The Spokane Valley Lodging Tax Advisory Commission recently met to make recommendations for 2014 funding to agencies that promote tourism.
We also had a ton of election coverage Saturday since ballots have now been delivered. Correspondent Valerie Putnam tackled the Millwood Mayor race between Kevin Freeman and Dennis Hamlin while Lisa covered the East Valley School District school board and Liberty Lake City Council. There was also a candidate forum last week featuring those running for Spokane Valley City Council.
---
---