A belated introduction / Chiefs beat Everett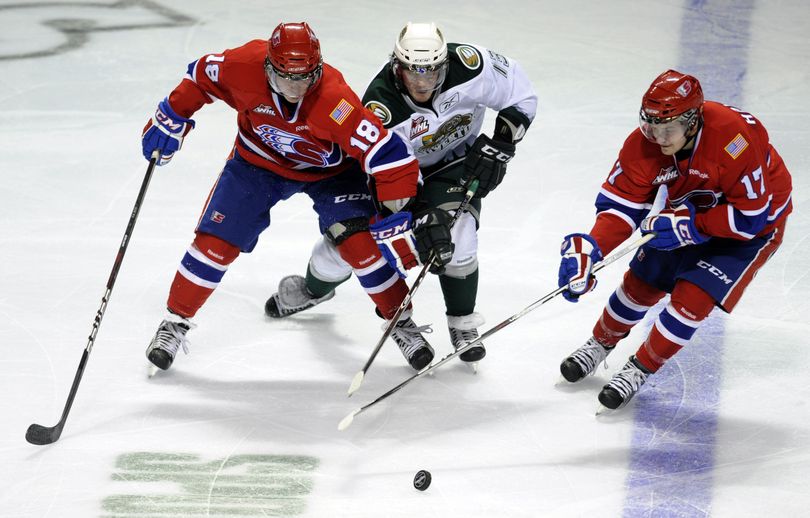 This post is few days late and about 100 dollars short (anyone else ever have that feeling once in awhile?). I suppose I could blame it on the fact that I spent my first week back at The Spokesman-Review chiseling off the rust. I've been away from the sportswriting game for almost three years. That's a long time to be away from something you love, but really I'm just thrilled to have the opportunity to be back. I won't make any cliche innuendos about riding the bench, etc. The first week is over - and I'm as ready as ever.
Keep reading for information about the Spokane Chiefs' 5-3 win over the Everett Silvertips last night and a little stroll down Memorial Cup memory lane.
My first beat assignments are covering the Spokane Chiefs and the nationally-ranked (No. 25) Gonzaga women's basketball team. Yes, I agree. I have one of the best jobs in the world. It's not only working with the best people, watching great athletes, great teams, great games and meeting great people that I love - it's also the writing, the reporting and the interaction with readers. I love communicating with people that take the time to read our section. Feedback is more than welcome, as far as I'm concerned.

So, as I mentioned earlier, this isn't my first rodeo.

I started with The Spokesman-Review in 2003 when I was a sophomore in college. I took high school sports scores over the phone and eventually put together the agate page. Then I added some copy editing and writing into the mix, and when I graduated college I started writing full time. That was around the time the I was told I'd be covering the Chiefs.

I started in the spring of 2007. I was laid off by the end of 2008, along with 25 amazing newsroom colleagues. That was an awful time. However, the time I spent writing full time was fantastic, so that's what I like to remember. Let's go back to 2007.
About those Chiefs...
When August 2007 rolled around and the preseason started for the Chiefs, it was apparent I had a pretty decent team to cover for my first major beat assignment. They went undefeated through the preseason, and most Chiefs fans know the rest, but it's just so fun to take a jog down memory lane, right?
Spokane just fell short of winning the Scotty Munro Trophy as the regular season champions that year. That award went to the Tri-City Americans, who a) weren't at all done challenging the Chiefs that season - we'll get to that, b) were coached by current Chiefs coach Don Nachbaur that year and c) finished with 108 points - one point ahead of Spokane - in the standings. Spokane was coached by Bill Peters at the time (Peters is currently former Chiefs coach Mike Babcock's assistant coach with the Detroit Red Wings).
What I loved about this particular playoff run is that there was a bonus angle to every series - if not several.
My experience covering the Chiefs that season was unforgettable. It's also been exciting to see what that 2008 Memorial Cup championship team has gone on to do. And now I'm looking forward to seeing what this season brings - even though I'm jumping in midway through. Also, with that being said, please feel free to email me with any feedback along the way (jessicab@spokesman.com). I'll always respond as fast as I can.
As I'm learning about this team's identity, I'll have blog posts, written coverage, and anything I can bring you. From the two games I've seen, they certainly have potential. Here are some quick notes:

The Chiefs play 15 games in the month of January - eight at home and seven on the road. This is an incredibly important month and could be all the difference in the standings. They've already played three of their road games and one home game and are 3-1 in those last four games - beginning with a 5-2 loss at Kelowna on Jan. 4. Since then they've defeated Moose Jaw, 5-2, on home ice and picked up 4-2 and 5-3 wins, respectively, at Seattle and Everett. They play Everett twice more this week - at the Arena on Wednesday and in Everett on Friday. All games this month are within the U.S. Division, so if the Chiefs want to make their move on Portland and Tri-City - which are both ahead of Spokane - this is the time to do it.

Center Dominik Uher is back with the team after being away to play with his native Czech Republic in the World Junior championnships. Uher and the Czechs placed fifth after defeating Slovakia. Sweden defeated Russia for the Gold Medal.

The newest Chiefs - Todd Fiddler - is working out well so far for Spokane. He has scored Fiddler was part of the deal that sent backup goalie Luke Lee-Knight and leading scorer Anthony Bardaro to Prince Albert for 18-year-old Fiddler and goalie Eric Williams on Dec. 28.

Last item (for now), but certainly not least, the trade deadline is tomorrow. When I asked Chiefs General Manager Tim Speltz if he was still shopping, his answer was a simple "Yes." But, he added, he will only make a move if he feels like it will improve the team. So we will see. What do you think?

That's all for now. Happy Monday.
---
---