Tue., Aug. 20, 2013
Notes from WSU's first closed practice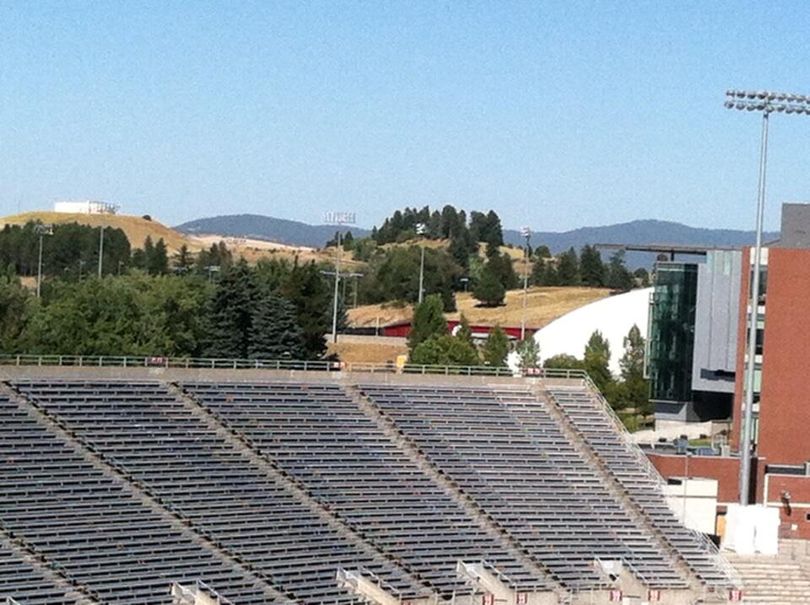 COUGARS
FROM PULLMAN -- Washington State's practice earlier this afternoon had a distinct game-week feel to it -- though the Cougars' opener at Auburn is still 11 days away. And we watched practice from the elevator tower for the first time this season. So did a few other people. You can see the view in the photo above. We have notes, too, so keep reading.
...
This practice was a bit longer than the typical camp practice, with much more emphasis on scout-team work and special-teams drills (primarily punt and kickoff coverage).
There wasn't much of a "team" period, other than a handful of plays covering about five minutes or so. Connor Halliday took more reps during 1-on-1s than he has over the past couple of days, and both him and Apodaca threw well enough during that period to lead the offense to a victory.
--- Damante Horton is apparently healthy enough to play, as he was a full participant for the second consecutive day and took all of the reps with Nolan Washington as the No. 1 cornerbacks.
--- WSU's No. 2 defense currently features two true freshmen -- Daquawn Brown and Charleston White, who has really come on strong in recent days.
--- Taylor Taliulu continues to get the No. 1 reps at strong safety. Casey Locker is back from whatever it was that kept him out of practice last week, and was working with the No. 2 group at safety alongside Anthony Carpenter.
--- Isaac Dotson is running the scout-team offense some this week to simulate a mobile, option quarterback.
--- There was some potential bad news for WSU's offense: Rickey Galvin was seen limping out of the stadium, clutching his lower back, before laying down on a small cart to catch a ride elsewhere. Didn't see the play he was injured on, but he didn't seem to be moving very well afterward.
--- Jacob Seydel attended practice and sat in the stands with a rather large wrap around his lower right leg. Freshman safety Darius Lemora was also at practice and on crutches with a boot on his foot.
--- Chester Su'a stopped by and offered his usual greetings to a few players and coaches, but still isn't suited up or practicing.
--- With this being WSU's first practice of the school year -- classes started on Monday -- I was curious to know how coach Mike Leach thought his players responded from a focus perspective.
His response: OK, but not great.
"Mixed. Better than most first days," Leach said. "Not great. It's not a great practice."
--- There were several walk-ons added to the roster today with the start of school, though one of them is a familiar face -- sophomore Drew Loftus, who was cut from the team in February after being arrested trying to steal two bottles of tequila from Dissmore's, is back on the team wearing his old No. 32 and playing receiver.
Leach said "he was cut for eight months for violating team rules. Now he's back and we're excited to have him back."
Asked if that was the plan all along, Leach said "not necessarily, but that's how it unfolded."
Loftus appeared in two games as a second-year freshman in 2012 and caught one pass for 37 yards.
--- The new walk-ons are: Domenic Rocky, a quarterback from Auburn, Wash.; Kamel Greene, a defensive back from Mountain View, Calif.; Kahshan Greene, a defensive back from Mountain View, Calif.; Drew Thompson, a safety from Burien, Wash.; Michael Taliulu, a linebacker from Aiea, Hawaii; and De'antay Williams, a linebacker from Palo Alto, Calif.
--- Several players also changed uniform numbers, which Leach said was to prevent duplicates from playing on special-teams together.
The changes: Apodaca changed from No. 2 to No. 17; Theron West changed from No. 13 to No. 24; Daquawn Brown changed from No. 5 to No. 25; Isaac Dotson changed from No. 24 to No. 31; Feddie Davey changed from No. 1 to No. 36; Kyle Lappano changed from No. 33 to No. 39; Cole Madison changed from No. 89 to No. 61 a few days ago; Xavier Cooper changed from No. 9 back to No. 96; and Emmitt Su'a-Kalio changed from No. 96 to No. 99.
--- I didn't see freshman cornerback Alex Jackson in attendance, though with all the number-switching, I suppose it's possible I just lost him in the mix.
Christian Caple can be reached at christianc@spokesman.com. Twitter: @ChristianCaple
---
---