Fri., Aug. 30, 2013
Predicting WSU's final record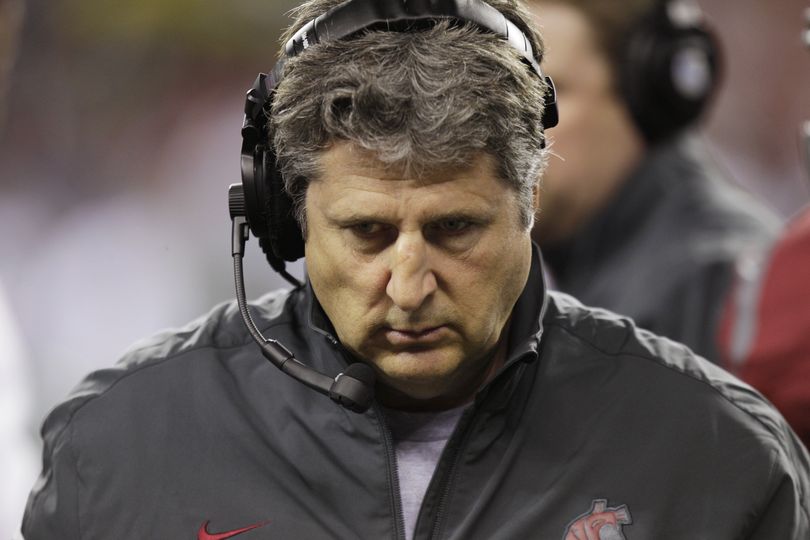 COUGARS
FROM AUBURN -- Everyone loves predictions, except for the people who don't. If you are part of the latter group, don't read this. But if you want to see a few season predictions from folks who cover WSU -- myself included -- continue reading.
...
The task was pretty simple. I asked a handful of other scribes to write a sentence or two about their opinion of WSU's prospects for the 2013 season. Here's what they wrote.
...
"The Cougars are bigger, stronger, faster, deeper and just plain better than they've been in years. That said, they're still too young and/or inexperienced at many positions. I predict seven wins maximum, but the schedule is so tough, I think 5-7 or 4-8 is more likely." -- Howie Stalwick, Kitsap Sun (among others)
"I'll go with 4-8. I foresee improvement, but the league looks rugged and the Cougars don't get to play the two reputed weakest teams in the league -- Colorado and themselves." -- Bud Withers, The Seattle Times
"The home schedule is in their favor this year. Their line is much improved and more consistent, which will allow junior QB Connor Halliday more time to distribute the ball. Mike Leach also has 6-8 receivers who he will shuffle in and out throughout the game who are all dynamic players. However, it will be difficult to judge if the defense will be able to keep points off the board. I believe the Cougs finish with five wins and seven losses." -- Dane Bargabus, Cougfan.com
"I'm incredibly confident that WSU is a better team this year. Whether that translates into more wins ... well, I'm less confident about that. If WSU is going to go up, someone has to come down, and who in the Pac-12 is coming down? The teams in the middle of the conference appear to be stronger this season. The schedule also isn't great; opening on the road against Auburn, no Colorado, on the road at Cal ... none of that does the team any favors in its quest to improve its record. So while the Cougs will obviously get the two wins against Idaho and Southern Utah, I have a real hard time finding four more wins in there to get back to a bowl game. I think somewhere like two or three other wins is more likely. Prediction: 4-8." -- Jeff Nusser, CougCenter.com
"I'm not too big on making predictions, but it's hard to look at a schedule one hundred billion times and not see "L's" and "W's." When looking at the Cougars' 2013 schedule, you see a lot of games that could be wins, but a lot more games that will likely be losses. I don't think this team is in a position to make a bowl run this season. Could they do it? Certainly. However, the secondary is still a big issue and the offensive line, while improved, isn't going to be a unit that becomes a strength.
When looking at the schedule, a tough start at Auburn and USC is going to be hard. Can this group win on the road? They haven't been able to in recent years, and while I do believe that Saturday in Auburn presents an opportunity to surprise some people, I'm not exactly sure this team is exactly prepared for SEC football -- on the road, nonetheless.
Washington State football is going to be a lot more fun to watch in 2013. I believe the offense will be more Air Raid-esque, I think the running game will improve and there will be large amounts of scoring involved. A tough schedule coupled with depth issues that are about a year away from being partially resolved, I think there's caution tape necessary. There's five wins on this schedule -- Southern Utah, Idaho, Cal, Utah and Oregon State – but the conference games are tough to gauge.
Cutting to the chase after 250 words of avoiding a prediction, I think this season ends up 5-7 with wins against Southern Utah, Idaho, Oregon State, Utah and – wait for it – STANFORD in Seattle. CenturyLink hasn't exactly been friendly to the Trees and it will provide the win of the decade for the Cougars on September 28." -- Britton Ransford, WazzuWatch.com
...
I'm also not predicting a bowl game appearance for WSU, though I echo the thoughts of a few of our esteemed guests in believing the Cougars will be a much better football team this season.
But that schedule. I only see two chalk-it-up gimmes -- the obvious ones at home against Idaho and Southern Utah. Every other game looks loseable. But more than a handful of them look winnable, too. I just think the Pac-12 is too tough this season, and it doesn't help that WSU misses Colorado. Games against California, Utah, Oregon State and Washington will probably be the Cougars' most likely chances at additional victories, and I do expect them to beat two of those teams (and who knows what might happen against Arizona State on Halloween).
I'm sure of this prediction: the Cougars will be much more competitive than they were a year ago, and they'll enter most fourth quarters with a chance to win. But their schedule strength leads me to a guess of 4-8 for a final record.
Christian Caple can be reached at christianc@spokesman.com. Twitter: @ChristianCaple
---
---