Wed., Jan. 23, 2013
Pregame thoughts from Eugene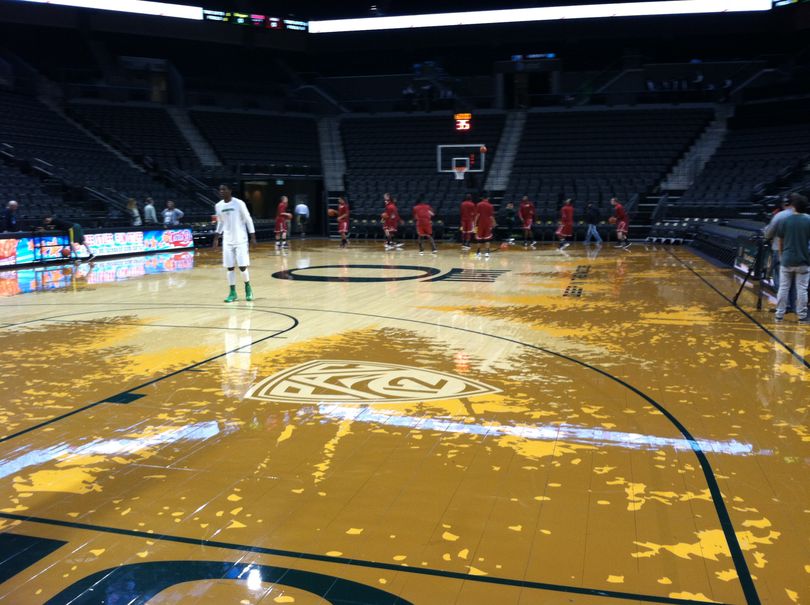 COUGARS
FROM EUGENE -- We've arrived at Matthew Knight Arena, the big, shiny building that sticks out like a sore thumb among the college-town-type business that surround it. And then there's that court. Anyway, we have thoughts, so read on.
...
A Twitter follower asked me today which locale I prefer -- this new arena, or MacArthur Court. Really, it's not close. I'm a sucker for the old, smell-the-popcorn, hardwood-creaking kind of gyms (not arenas), so I'll take Mac Court every day of the week and twice on Sunday. Maybe it's because Mac reminded me of the gym at R.A. Long High School in Longview. RAL is the rival of Mark Morris, the school I attended, and I think anyone who's ever witnessed one of those games would tell you they were always more fun inside RAL's bandbox of a gym. Ah, memories. ... We wrote quite a bit yesterday about identity, and how it seems the Cougars are still searching for theirs. Mike Ladd said something that struck me -- that he'd like for the team's identity to be associated with tough, aggressive defense, with the idea that if they defend well for 40 minutes, the stops they produce will lead to all the offense they need. Following that formula tonight will be supremely difficult, but likely necessary to hang around. WSU is last in the conference in field-goal percentage (38.9) and field-goal percentage defense (48.9) in Pac-12 games, two alarming statistics for a team that doesn't play with a fast tempo and lacks offensive firepower. ... If there's any reason to think the Cougars can pull an upset tonight, it's this: they're probably catching Oregon at about the perfect time. Washington's visit here on Saturday is being billed as one of the marquee matchups in the conference this week, and the Ducks know they're done dealing with Arizona and UCLA due to a schedule unbalanced in their favor. So, if ever there was a "we can't overlook 'em" game for Oregon, this is it.
All for now. We'll be back afterward.
Christian Caple can be reached at christianc@spokesman.com. Twitter: @ChristianCaple
---
---