Fri., July 26, 2013
Media Day open thread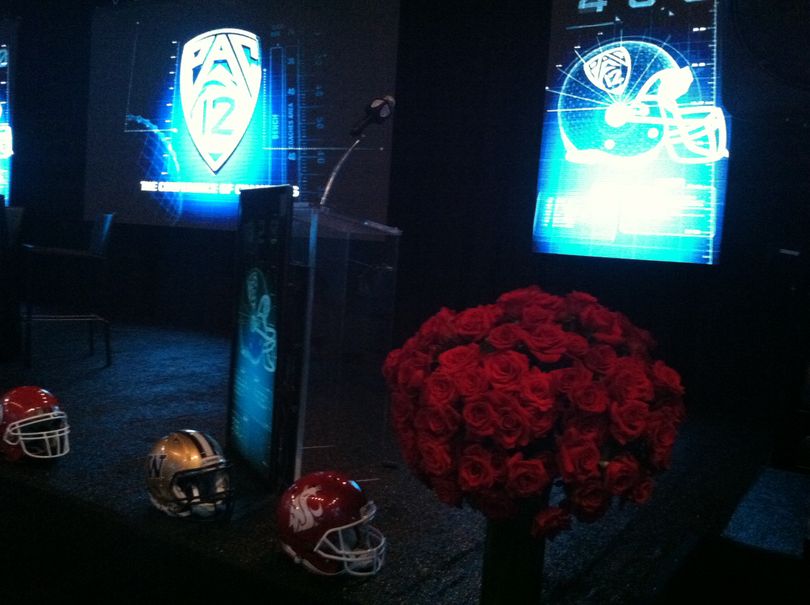 COUGARS
This will serve as our open thread for the day, which begins at around 9 a.m. with an appearance from Pac-12 commissioner Larry Scott. Expect an announcement at that time about the conference's new contact policy.
Mike Leach, Elliott Bosch and Deone Bucannon take the stage at 9:15 to answer questions from reporters, and we'll pass along news and notes from that session, as well as anything of interest from the representatives of the remaining teams. But keep in mind that we'll be in and out as we conduct one-on-one interviews elsewhere on the Sony Pictures Studio lot.
Stay tuned ...
UPDATE, 9:45 a.m. -- The WSU contingent is off the podium, and we have a few notes to pass along ...
-- Leach was asked about his comments the other day in regards to the new targeting rules for defensive players. He said that "one of the plays that's getting criticized is the (Jadeveon) Clowney hit. The Clowney hit is why they have football. That's why football was invented."
To illustrate his point, Leach said that if two people lined up across the room and ran full-speed at each other, it's not likely that a human being could determine if one of them lowered their head immediately before contact. For that reason, he doesn't think it's effective to ask an official to try to make that decision on the fly.
-- As he's said a few times before, Leach reiterated that if the season started today, Connor Halliday would start at quarterback. Makes sense, because he's listed atop the most updated depth chart.
-- Leach said he just filed the first draft of the book he's authoring about Geronimo with WSU professor Buddy Levy. He added that the process of writing a book -- deciding where to place certain sentences, etc. -- is like marriage, except "there's no divorcing a book."
"Books are funny things. They're very satisfying ultimately, but then there's a point where it gets kind of tedious and you get tired of the same stuff over and over."
-- Leach was asked whether he's cleared up the "zombie" and "empty corpse" problem he had last season. He said that if there remain any zombies on the team, it's his own fault because he's the head coach. But he also said he thought WSU had a strong offseason, referring to Bosch and Bucannon as "specimens."
-- Bucannon was asked about the new targeting rules, and gave a pretty basic answer about simply making the proper adjustments in order to be in accordance with the contact guidelines.
UPDATE, 9:25 a.m. -- Scott reiterated during his time at the podium that the Pac-12 Network is no closer to a deal with DirecTV than it was one year ago, and he doesn't expect a deal to get done during this school year. He also urged Pac-12 fans to drop DirecTV if they want to view what he described as "must-see programming" with "unprecedented access."
The commissioner also touched on a number of talking points in regards to the NCAA and its policies, saying he is pleased that president Mark Emmert has called a summit in January to discuss some possible changes. Among them: enforcement, governance and financing.
---
---