Thu., April 21, 2016
Let's wait a while before anointing Walker the next king of Seattle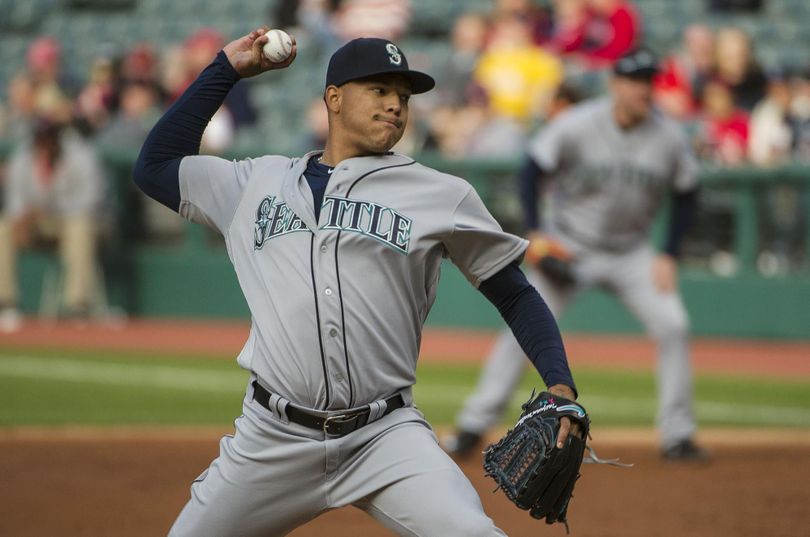 A GRIP ON SPORTS • Did you hear that sound yesterday? What sound? The sound of Mt. Rushmore-sized expectations being heaped on Taijuan Walker's shoulders. Read on.
••••••••••
• Midway through Walker's domination of the Cleveland Indians yesterday, Root put up a graphic showing his career statistics. Nothing wrong with that. But right next to them were Felix Hernandez's at the same point in their careers. Uh oh. Yes, Walker is pitching well, and has been since his 11th start last season. But no one, and by that I mean no one, needs the added pressure of being the next Felix Hernandez. In Seattle. Funny thing is, Walker's statistics – a 15-11 record, a 3.96 earned run average, 217 strikeouts in 240 innings – are just OK. Nothing overly dominant or breathtaking. Good, solid numbers. Which just goes to show you, you never know about young pitchers. Hernandez is the King of Seattle these days but four seasons into his major league career he was good. Not great. Good. He was still learning his craft. So is Walker. Did Hernandez become an "A" student? Sure he did. Walker may be one as well. But maybe not. There are a lot of tests between now and then. Of course, if Walker could face Cleveland his entire career, he may end up being Cy Young Part Deux. (In three career starts against the Indians, Walker has given up two runs, struck out 20 and walked just two.) It's just, at 23 years old, Walker has at least a decade of pitching ahead of him. A lot can happen. Sure, his stuff screams dominating pitcher. But there have been a lot of guys in an M's uniform whose stuff indicated the same. And none became Felix. Except Felix. The Mariners need another starter to develop, of course. Everyone does. A few years ago they had three guys in the minors to tout, and tout them they did. Walker was one, but he was just third behind James Paxton (trying to fine-tune his stuff this year in Tacoma) and Danny Hultzen (trying to bounce back from another injury). It's hard to make it as a big-league pitcher. It's even harder to become a bona-fide star. And it's hardest of all to become a one while dealing with comparison to the Cy Young winner a couple lockers down. Walker doesn't need that. No one does.
• If you wondered why the Pac-12 voted for a satellite camp ban when 11 of the 12 schools opposed it, then yesterday was your day. The odd vote was explained in an odd way. First, commissioner Larry Scott ridiculed Dan Guerrero, the UCLA athletic director and the Pac-12's representative on the NCAA council that voted on the issue. You may have agreed with Scott, especially considering Mike Leach's recent comments and the fact Guerrero's school was the only one that wanted a ban. But then an email was leaked, as is usually the case in these things. Guerrero explained to his brethren he had voted the way he did because the conference was surprised a vote was taken and he picked the lesser of two evils. We have two thoughts on this: The NCAA is going to take up this issue again (members of the Sun Belt Conference also felt they were undermined by the vote); and John Canzano explains better than I can why you should be focused on Scott's leadership, not this one vote.
•••
• WSU: You know WSU's committee that heard Valentine Izundu's transfer appeal? They upheld the ban on transferring to San Diego State and cited its belief tampering had taken place. Jacob Thorpe has more in this blog post. There is also more in this San Diego Union Tribune story. ... On the football front, Jacob held a live chat yesterday and you can read the transcript here. He also has this story on the specialists and what they are focusing on this spring. ... ESPN.com's Ted Miller looks at the Cougars' top-10 players. ... Oregon State has picked its quarterback. ... The APR scores were released yesterday and just about every Pac-12 football team is doing well.
• EWU: Today the defensive backs are in the spotlight as Jim Allen continues his trek through the spring position battles.
• NIC: The Cardinals' Braian Angola-Rodas signed a letter of intent with Florida State yesterday.
• Empire: Jim Meehan has a notebook today as the Empire prep for Saturday night's game at Tri-Cities.
• Preps: Cancer is tough to swallow at any time, but when it strikes the young it seems even worse. Greg Lee has a track notebook today which begins with the story of Northwest Christian's Micah Henry (pictured), who is dealing with a brain tumor. ... Mead picked up a big GSL soccer victory over Gonzaga Prep yesterday. Jim Allen was there and has this story.
• Mariners: The story from yesterday's 2-1 win at Cleveland was Walker, of course, but the bullpen was also solid again. Part of that has been the work of lefty Mike Montgomery.
• Seahawks: So Frank Clark is still at 272 pounds and still a defensive end. The listing otherwise was a clerical error. OK. ... Just so you know, Walter Jones isn't putting on a Seahawk hat at the draft. ... Russell Wilson is a rock star in Seattle. Brett Favre could have been one too. ... Ricardo Lockette is just taking it slow. ... Everyone knows how good Richard Sherman is, even his peers.
• Sounders: Brad Evans is still wearing a shoulder brace but it's more of a precautionary thing. He's also looking forward to meeting an old teammate Saturday.
•••
• Remember, we won't be posting tomorrow. Have to be out of the house early to head to Portland for the weekend. There's a good chance it will be raining there. What a surprise. Until later ...
---
---