We've asked this question before …
A GRIP ON SPORTS • Is it time to hitch a ride on the Mariners' bandwagon? Read on.
••••••••••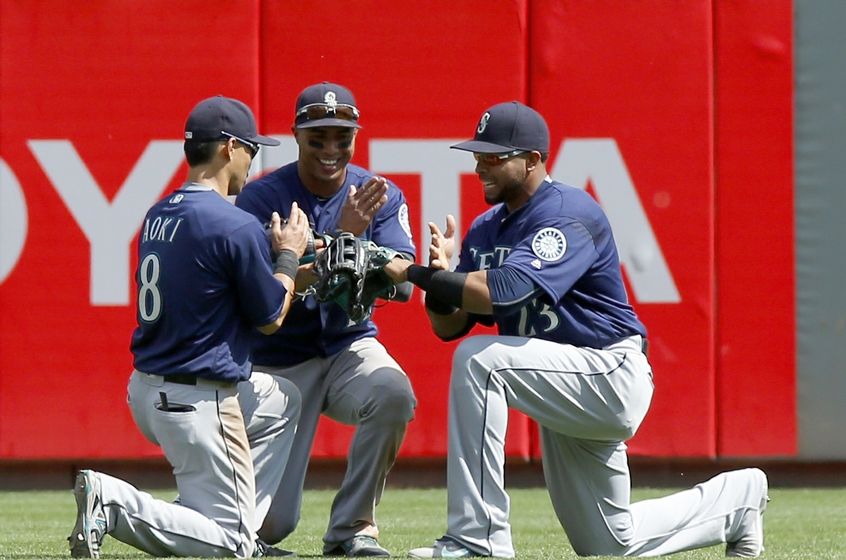 • If you left the M's at Loser Station a long time ago, you aren't alone. (As an aside, Bill Murray tweeted yesterday asking if there really is a highway to hell and a stairway to heaven, does that say something about the expected traffic? To which we all answer, yes. It may not be germane, sure, but it made me laugh.) It may have taken 10, 11 or 12 years, but a lot of Mariner fans basically gave up. Anger ate away at frustration and left most just a shell of resentment. But there is a feeling around these parts this year is different. The M's may just be this year's version of the 2015 Houston Astros – hopefully, without the fade-down-the-stretch part. Seattle won again yesterday, rallying to defeat the Reds 5-4 – the M's trailed 3-0 after one – and sweep the three-game road series. That means they have won four consecutive games and five of six. The M's are 18-7 on the road, 26-17 overall and leading the American League West. It is late May, sure, but the M's aren't 17-26 either. They have been that bad, and worse, many times over the past decade and a half. The wandering in the wilderness may just be over. The upcoming nine-game homestand, which starts tonight against the A's, will tell us a lot. The M's are under .500 in Safeco, scoring fewer runs and giving up more than they do on the road. If this truly is to be a magical season, they will have to do better in Seattle. It's simple but true. And crucial in getting all the fans back on board.
• Today is May 23. If you were contemplating playing in this year's Hoopfest, better make up your mind. Today is the final deadline. If there is enough room in the bracket you want, you still can play, provided you register by today. After that, you are guaranteed spectator status, my preferred alternative these days. There is one other way, however, you can get on a court. You can be a monitor. It's better than it sounds. At least that's what I've heard from my buddies who do it every year. One makes it a family affair, with his son and wife both involved as he oversees a youth court. And did I mention there is a prize involved? Monitor a court, earn swag, or something like that. Check with Hoopfest if you are interested.
•••
• WSU: Commissioner Larry Scott meets with all the presidents and chancellors of the Pac-12 this week. It will be the first conference meetings since WSU named Kirk Schulz president. Jon Wilner has more.
• EWU: Former Eagle quarterback Vernon Adams has signed a three-year contract with Montreal.
• Preps: Not only can we pass along Jim Meehan's weekly golf notebook, we can also share a roundup of Sunday – yes, Sunday – prep action. The inclement weather caused some events to occur yesterday. ... The WIAA is contemplating changing how the state playoffs are put together nest year. Most coaches are all for it.
• Mariners: The 5-3 win happened without the help of shortstop Ketel Marte, who was put on the 15-day disabled list with his sprained thumb. Chris Taylor was called up to replace him. ... Texas wants a new stadium and the Rangers wants local taxpayers to pay for at least part of it. Is that a good thing? If the taxpayers want to say yes, that's fine by me. That's the way our government is supposed to work.
• Seahawks: The Hawks are back at it this week. The offseason isn't all that "off," is it?
• Sounders: Portland snapped its losing streak with a 4-2 home win over Vancouver. ... The Galaxy and San Jose played to a 1-1 draw.
•••
• The Warriors and Klay Thompson are down 2-1 in their series with the Thunder, Spokane's Tyler Johnson scored a game-winning, overtime goal with his back and former Mariner Ichiro Suzuki neared 3,000 hits – in the Major Leagues. Yesterday was an interesting professional sports day, no? Until later ...
---
---