This column reflects the opinion of the writer. To learn about the differences between a news story and an opinion column, click here.
Opinion > Column
The Slice: One nation, under a wicked spell
Sun., May 9, 2004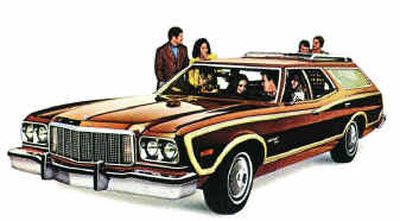 Once, when Marnice Foote's son Bobby was in first grade, the boy had a surprising answer to her question about what he had done in school that day.
"First we do the witches stand," he said.
That got Foote's attention.
What was going on at that school? Were lessons in the occult now part of the curriculum? Was the teacher a proselytizing Wiccan?
"I asked for more information," she said.
And Bobby explained that every day he and his classmates pledge allegiance to the flag "for witches stand."
Someone call the Supreme Court.
"Hands off: Remember to tell your kids to leave bird nests alone. And you might want to mention it to your cats.
"Following up on last Sunday: Cathy Nestor said that if Spokane's Jason Moan wants to trumpet his Northwest heritage in his new home in North Carolina, he ought to wear socks and Birkenstocks.
Other readers suggested he might want to drop a lot of Bing Crosby references into conversations or have relatives send him every huckleberry product known to man.
Someone else recommended wearing a Washington State University shirt. But I neglected to mention last week that Moan is a University of Idaho graduate. He might have different thoughts on the desirability of donning Cougar apparel.
"Hey, kids: Wondering what you can say when you are trapped in the family truckster for a road trip this summer and your dad won't stop complaining about gas prices? Well, here are a few suggestions.
"Nobody forced you to buy this fuel pig."
"That thing got a hemi?"
"Dad, you're just a dupe of the global economy and the self-serving American political machinations that prop it up."
"I'm geeked about listening to you rant for another 500 miles."
"Where's your Messiah now?"
"Hey, I never wanted to leave Spokane."
"No, you're thinking of another guy: You can have your picture taken with actor Dick Van Patten at Pet Fest, May 22 at the Spokane County Fair and Expo Center.
You have to pay $5. But these donations will go to the Spokane Humane Society, so it's an excellent use of your money.
But I know what you're wondering. What are the top-selling Dick Van Patten movies/TV shows available in DVD or video from Yahoo! right now?
1. "The Family Guy." 2. "Joe Kidd." 3. "Soylent Green." 4. "I Dream of Jeannie." 5. "High Anxiety."
"This date in Slice column history (1995): At least 50 percent of all baby boomer prom stories are embellished.
"Warm-up question: If "Colfax" and "Farragut" were verbs, what actions would they describe?
"Today's Slice question: How has an inexplicable delay in the delivery of an e-mail complicated your life?
---
---