This column reflects the opinion of the writer. To learn about the differences between a news story and an opinion column, click here.
Opinion > Column
The Slice: There are dumb questions
Tue., May 25, 2004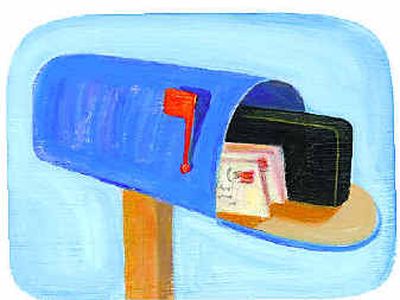 It's always a good idea to think before speaking. About 60 homeward bound Japanese students were out at Spokane International Airport the other day when an airline employee asked a question that fell short of brilliance.
"Have these kids flown before?"
"One more misheard song lyric: A reader named Maureen was driving with her young daughter. They were listening to the John Fogerty song, "Center Field."
The little girl sang along: "Look at me, I could be, Sally Field."
"Future shock: A mailing from a residential home-cleaning service made the following declaration: "Life's too short to clean your own house."
Now I know what they're saying. And there's nothing wrong with the service in question. Still, the wording sort of makes you wonder. What's next?
"Life's too short to wheel your own trash barrel out to the curb."
"Life's too short to comb your own hair."
"Life's too short to perform your own conjugal duties."
"Life's too short to do your own channel-surfing."
"Life's too short to raise your own kids."
"Life's too short to take your own naps."
"Five potential problems with multifamily neighborhood yard sales:
1. Someone will want to be the big boss/chief organizer.
2. No one will want to be the big boss/chief organizer.
3. Relations can be strained if certain families regard yard sales as slightly vulgar.
4. An aggressive pricing strategy could earn you the nickname "Joe Wal-Mart."
5. Tensions can arise from Neighbor A seeing that Neighbor B is selling a saw borrowed from Neighbor A two years ago.
"Overdrawn imagination: Not long ago, the tellers at my bank branch started sending me little notes.
When I began reading the initial hand-written card, I felt a twinge of worry.
Could the young lady in question get in trouble for mailing a mash note to my home?
What had I done to charm her so?
What would I say to her next time I was in the bank?
I began preparing a script. "Look, you're a great kid and I love the way you count money, but it would never work."
But as I read on, I figured it out. I had misunderstood. Though the note had the appearance of being personal, it was, in fact, a customer-appreciation gesture undoubtedly ordered from on high.
The teller thanked me for stopping in and said she hoped to see me again soon.
Yeah, sure. I'll bet she says that to all the guys.
"Today's Slice question: Who set the record last weekend for the most trips to the basement to check for water seepage?
---
---