This column reflects the opinion of the writer. To learn about the differences between a news story and an opinion column, click here.
Opinion > Column
The Slice: Adjusted for deflation
Thu., Sept. 1, 2005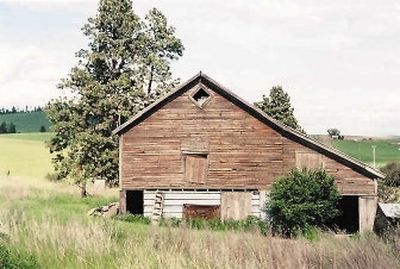 Insurance man Art Anderson told about a North Idaho claims adjuster who settled a personal-injury matter with a woman over the phone.
A bit later, the woman's husband called back, wanting to reopen negotiations. He said his wife had been in no position to make a decision because the two of them had been in the midst of, uh, a conjugal visit when she took the call.
"My amused adjuster agreed and after a couple of figures back and forth, the claim was amicably settled," wrote Anderson.
"Slice answer: Phil Purcell said his family's barn northeast of Rockford has as much character as any in the Inland Northwest. He believes it is about 100 years old.
It has eight 24-foot-long hand-hewn crossbeams that are six inches by six inches.
"I could tell you lots of stories about that barn," wrote Purcell, who said he was born on the farm in 1926.
"Reading the S-R: "I was surprised at, and interested in the comments about how people read the paper," wrote Jerry Hargitt. "I must be the only one who starts at the top of A1, reads the whole paper in order, and then goes back to the crossword puzzle."
"Today's unusual suntan: "My friend, Katy, and I were sunbathing on our first day in Hawaii," wrote Dana Freeborn.
Katy slathered sunscreen all over herself. Then she turned her attention to Freeborn.
"Since I was planning to get a good tan, I quickly stopped her. But not before she'd already touched her hand to my thigh."
Freeborn wound up with a sunburn that day. She was pretty much red all over. "Except there was a creepy white handprint on the back of one thigh."
When she wore shorts after that, it looked like there was a hand reaching up inside the leg of her garment.
"Misheard Lyrics Department: In the Sugar Ray song "Fly," there's a line, "My mother, God rest her soul."
Vicky Frickle's daughter, Emily, thought it was "My mother got dressed to sew."
"When doctors don't look at your file: "For over two years my husband and I fought a battle against infertility," wrote Laurie H. "After numerous in vitro fertilizations, many tears and a whole lot of money down the drain, we gave up the fight."
It's all in her record. Anyway, a doctor she saw at a recent appointment apparently didn't spend much time reviewing her medical history. One of his questions was, "So, what are you using for birth control these days?"
Said Laurie, "I just wanted to cry."
"Misspeaking: "We have a small building adjacent to our home that is set up for guests, that was alternately called the Cabin or the Cottage," wrote M. A. Bloom, a North Idaho resident.
But once she got confused and referred to it as "the Cabbage."
And that became its official name.
"Today's Slice question: Who has been bitten by cats the most times?
---
---