News > Spokane
Spokane wedding crasher now has jail date
Sentenced for stealing presents
Fri., Feb. 26, 2010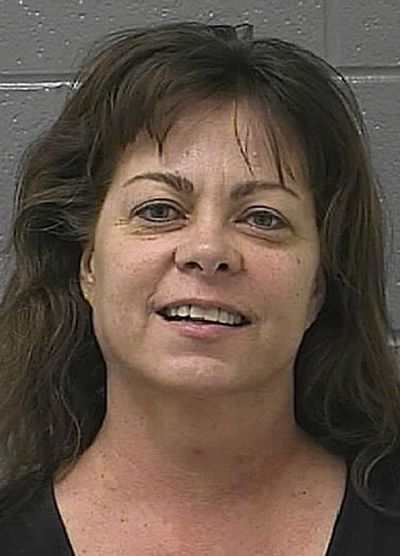 She showed up at weddings uninvited, mingled with guests and never left empty-handed.
But a Spokane woman's wedding-crashing scheme unraveled last summer when an old high school classmate – and off-duty police officer – recognized her at a wedding where she wasn't an invited guest.
When the hosts discovered missing gifts, they realized they'd been looted.
Now Pamula W. McBride, 46, will serve 45 days in jail for stealing gift cards and personal checks from a wedding in Nez Perce County, Idaho, last June.
Police also suspect McBride stole similar items from the gift table at Scott DeGon's wedding reception at Cataldo Hall on the Gonzaga University campus July 18, nearly one month after she stole from a wedding at the Lewiston Elks Lodge.
"We had so many guests at the wedding that we didn't really notice until we went to open gifts the following day," DeGon said. "You don't get very many gifts and you're wondering, 'Gee, something's wrong here.' "
McBride, who did not return a cell phone message seeking comment, was sentenced Thursday in Nez Perce County District Court for felony grand theft stemming from the Lewiston incident. She has until March 6 to report to jail.
Police tracked McBride through stolen gift cards after the Lewiston wedding party noticed missing gifts and the off-duty police officer told them he'd seen a high school classmate who seemed nervous when he asked what she was doing.
The hosts gave police descriptions of possible stolen gift cards, and stores were asked to watch for them. Soon, Macy's, Costco and Home Depot reported a woman using the stolen cards. In at least one case, she showed her driver's license.
The cards had been purchased with credit cards, so police were able to locate the original buyers and confirm that the cards were meant for the newlyweds and not McBride.
When police learned of additional stolen cards, they tracked down the buyers and learned of the DeGon wedding in Spokane.
Police contacted DeGon and his bride, Elisa, on their honeymoon in Hawaii and told them of the stolen cards.
"It took at least three full days of just tracking people down and all that kind of stuff," said Spokane Police Officer Brian Eckersley. "It made a solid case for Idaho."
Police Chief Anne Kirkpatrick mentioned Eckersley's work on the case when he won the city of Spokane's employee of the month award this month.
In an interview with Eckersley last summer, McBride confessed to the thefts and said she'd been feeling depressed and didn't know why she'd done it.
"Pamula said she was embarrassed about what she did and does not have a good reason for it," Eckersley wrote, according to court documents.
She first told Eckersley she'd received the gift cards as a bonus from her employer, but then confessed they were stolen, according to court documents.
Eckersley found envelopes addressed to the DeGons in McBride's SUV.
Police were able to return some of the cards to the victims by returning the items McBride had purchased with the stolen cards, then reimbursing the cards.
DeGon, who lives in Rosalia, Wash., said the case has made him and his friends more cautious.
"Boy, if you have a wedding, you've got to make sure that you have somebody watching your gifts," he said. "I know if we go to a wedding, we'll just send the gift to the house a few days later."
Local journalism is essential.
Give directly to The Spokesman-Review's Northwest Passages community forums series -- which helps to offset the costs of several reporter and editor positions at the newspaper -- by using the easy options below. Gifts processed in this system are not tax deductible, but are predominately used to help meet the local financial requirements needed to receive national matching-grant funds.
Subscribe now to get breaking news alerts in your email inbox
Get breaking news delivered to your inbox as it happens.
---