News > Spokane
Edwards arrestee appeals sentence
Fired officer worked with bounty hunter
Fri., Aug. 3, 2012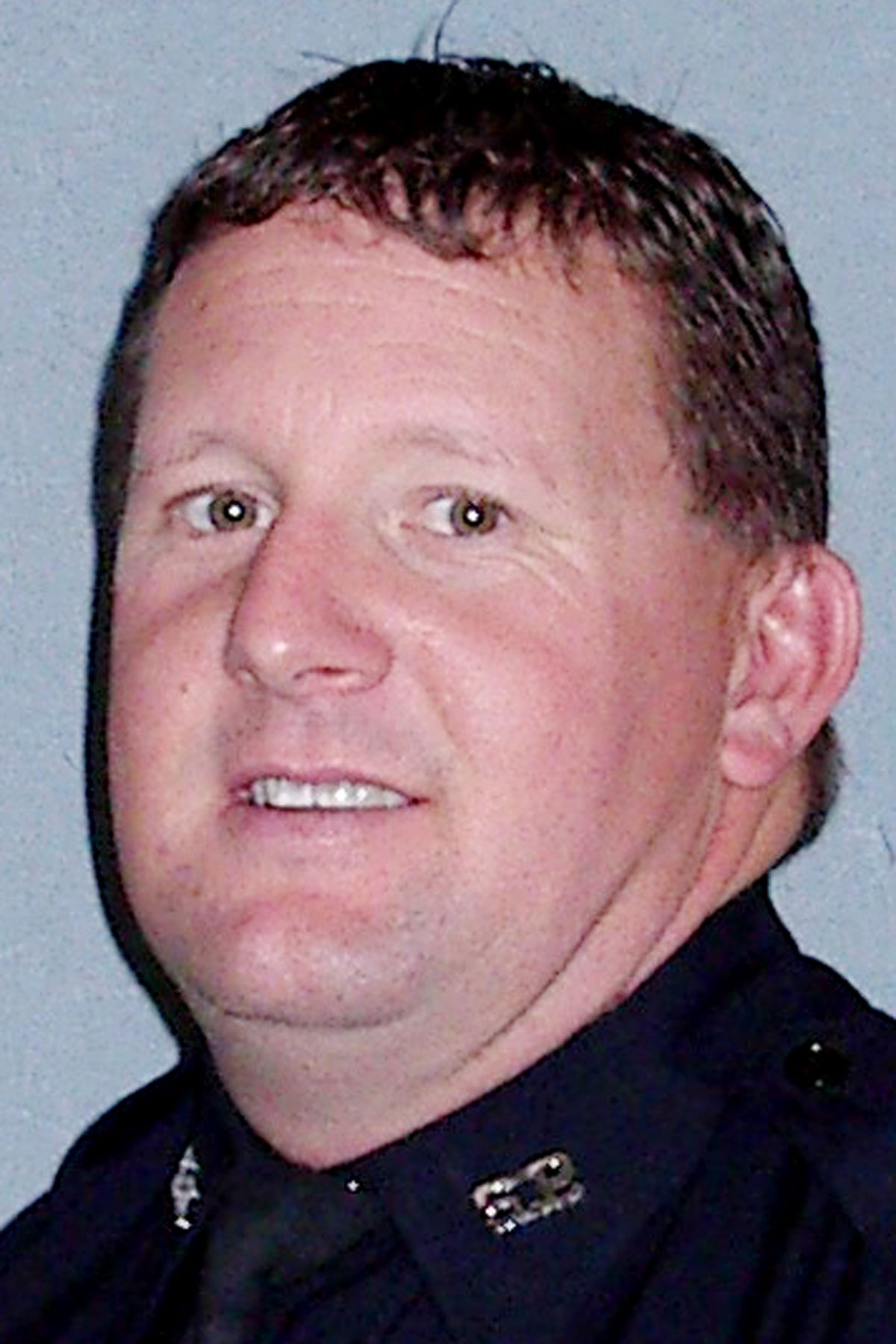 Edwards
A Spokane methamphetamine dealer ordered to spend 15 years in federal prison is trying to get his sentence overturned, in part because it was investigated by a now-fired Spokane police officer.
David Brian Hill's request is the latest twist in an investigation into potentially questionable partnerships between Spokane County law enforcement officers and local bail bondsmen and bounty hunters.
The investigation restarted earlier this year, and two Washington State Patrol employees, Dave Bolton and Jeff Thoet, spent six weeks on paid leave amid possible criminal allegations. The two returned to work late last month, but the investigation into their work with unlicensed bounty hunter Dennis Kariores is ongoing.
A U.S. District Court judge recently ruled that the motion filed by Hill, 44, raises issues that must be addressed by federal prosecutors.
Hill has told The Spokesman-Review in letters from federal prison in Sheridan, Ore., that Spokane Police Officer Alan Edwards illegally entered his motel room and took no action when the bounty hunter shocked him with a Taser after he was handcuffed.
The U.S. Attorney's Office filed documents responding to Hill's request for a new sentencing, but U.S. District Judge Fred Van Sickle sealed them at the request of prosecutors.
Assistant U.S. Attorney Joe Harrington, office spokesman, declined to comment.
Hill was arrested with large amounts of cash and methamphetamine three times in 2010, the last on Sept. 19. On Aug. 24 of that year, he was caught with 7 ounces of meth and about $5,000 at the Apple Tree Motel, 9508 N. Division St. Earlier in January, he was caught with 18 ounces and $15,000 near Northern Quest Casino.
Hill was released after his first two arrests because Spokane County prosecutors didn't file charges, but a grand jury indicted him on gun and drug charges after his last arrest and he's been in custody since. He was sentenced in June 2011 to 180 months in federal prison followed by six years of probation.
Plea deal, probe overlapped
Some of Hill's charges stemmed from the search at the Apple Tree Motel. Edwards and Kariores were both at the scene.
Hailey Smith, who was with Hill at the motel, told The Spokesman-Review in an interview from jail that Edwards offered her a portion of the seized cash if she signed a document allowing police to search the room. She said she refused.
Edwards obtained a search warrant from District Court Judge Greg Tripp about 1:30 a.m., about four hours after he arrived at the motel.
Hill's mother, Sharlene Perry, of Ritzville, said her son knows he did wrong but questions why he was given such a harsh sentence when the case was handled by an officer whose search and seizure procedures are the subject of a criminal investigation.
"He's not saying that he doesn't deserve a punishment," Perry said. But, "he feels like he got way more time than what the crimes warranted."
Now Hill, in a motion he prepared from federal prison, is citing the investigation into Edwards as a reason his 15-year sentence should be reconsidered. He argues his public defender, John B. "Jay" McEntire, IV, was ineffective and that prosecutors "withheld documents which would have shown that critical witnesses were lying or mistaken in important respects."
"Among other things, the officer that was the government's key witness was involved in criminal misconduct and that evidence was critical in Hill making a knowingly and voluntarily plea agreement with the government," Hill wrote. "This proof of this criminal misconduct was only recently obtained, and Hill believes that the government should have disclosed this evidence prior to the plea agreement."
Andrea George, head of the federal defender's office, said McEntire did not know of the investigation into Edwards until after the plea agreement was reached. Court records show it was signed on Jan. 27, 2011 – four days after Edwards was put on paid administrative leave.
Hill spoke to detectives after learning Edwards was under investigation, and McEntire mentioned that cooperation in a sentencing memorandum filed in June 2011 that tried to get Hill less time behind bars.
A hearing on Hill's motion to vacate his sentence is scheduled for Aug. 13.
Kariores, the bounty hunter, is out of jail awaiting trial on kidnapping and burglary charges for cases not related to Hill. Police and prosecutors say he unlawfully entered homes and detained fugitives. Kariores has said he only did what police told him to do.
Edwards was suspended without pay for three weeks last fall after being on paid leave for about 10 months. Investigators determined Edwards and Kariores arranged a ruse that allowed the police officer access to a home without a search warrant.
Edwards returned to patrol but was fired in February for lying to another officer to get personal information about a woman he'd met at a bar while off duty. He has not been charged in connection with the Kariores case, and the department's investigation found no criminal wrongdoing by Edwards. The FBI declined to review the investigation last September but is now taking a look.
It's unclear what prompted the new investigation, but it led to Bolton and Thoet being placed on paid administrative leave.
They returned to duty on June 29 after being gone since May 18, said Bob Calkins, spokesman for the WSP.
"Out of an abundance of caution when an allegation of possible criminal conduct is made, we put people on administrative leave," Calkins said.
Bolton was sergeant in charge of the WSP auto theft unit in Eastern Washington before it was eliminated last year to save money. He's now a general assignment detective. Thoet is a uniformed trooper.
Both men reported working with Kariores during auto theft investigations prior to his criminal probe.
That investigation was begun by Spokane police Detective Lonnie Tofsrud in fall 2010 after Tofsrud noticed an unusual amount of phone contact between Kariores and Edwards, a patrol officer who also served on the gang unit.
Karories has told The Spokesman-Review he worked with many law enforcement officers regularly.
Thoet told sheriff's Detective Lyle Johnston in February 2011 that Kariores had "crossed the line a lot" but maintained frequent contact with police. "He's coming into contact with officers every night just about," Thoet said, according to an interview transcript.
According to transcripts, Bolton described Kariores to investigators as "overbearing" and "egotistical" and said they almost stopped working with him because he was difficult to control.
Nevertheless, Bolton said Kariores was "basically a compass to point us in the right direction … and then we get our own information."
Tofsrud told Bolton when the investigation began that "Dennis has been telling people that he's making traffic stops at (WSP's) direction" and taking people into custody at the state patrol's request.
"The way Lonnie presented it made it sound like we were making Dennis an extension of law enforcement and asking him to do things that we ourselves could not legally do," Bolton said.
But, Bolton told detectives, "We've done nothing wrong."
Bolton and Thoet have not been charged and weren't subjected to an internal investigation until the case reopened earlier this year.
Local journalism is essential.
Give directly to The Spokesman-Review's Northwest Passages community forums series -- which helps to offset the costs of several reporter and editor positions at the newspaper -- by using the easy options below. Gifts processed in this system are not tax deductible, but are predominately used to help meet the local financial requirements needed to receive national matching-grant funds.
Subscribe now to get breaking news alerts in your email inbox
Get breaking news delivered to your inbox as it happens.
---