News > Spokane
Sold as a baby, Cd'A woman finally locates family
Coeur d'Alene woman who was sold for $100 as a baby finally tracks down two brothers living in Utah
Wed., Dec. 24, 2014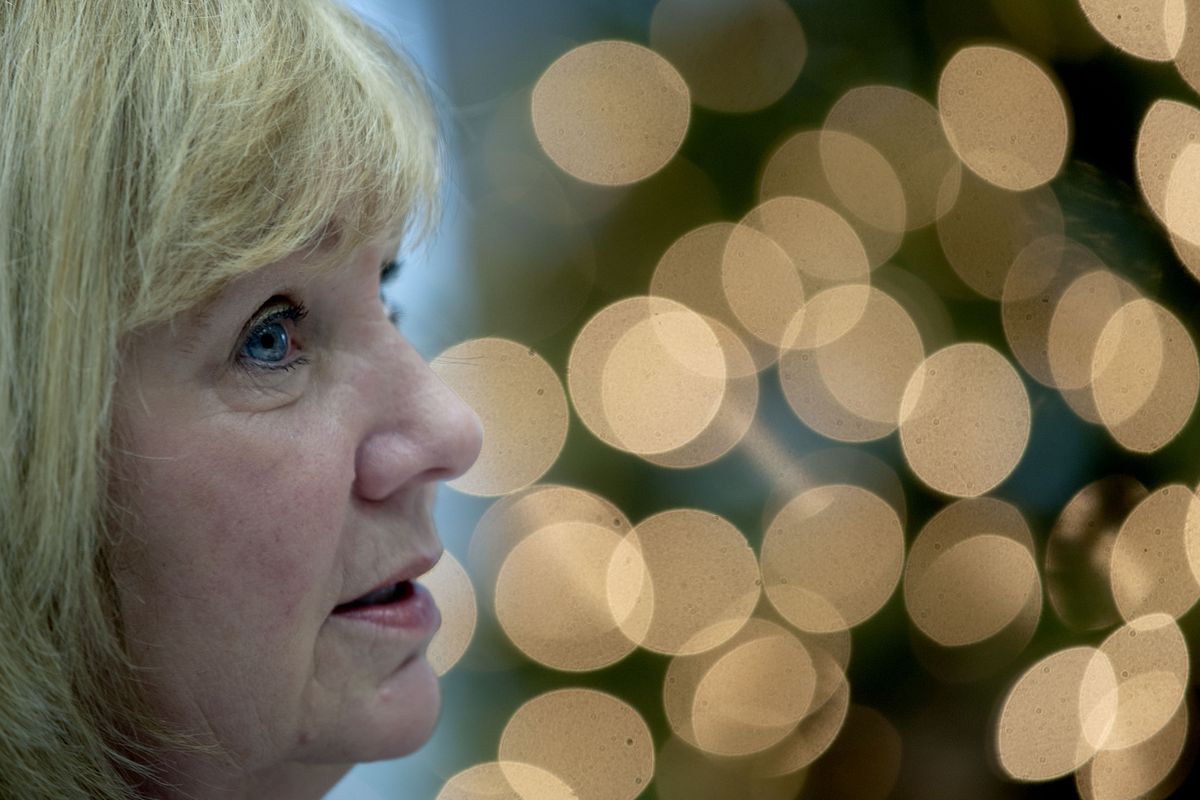 Heather Livergood, pictured at The Spokesman-Review office in Coeur d'Alene, tracked down her long-lost brothers in Utah this year. (Kathy Plonka)
In a search that spanned most of her life, Heather Livergood has found where she came from. And this Christmas she has the gift of family, including two brothers she never knew.
The Coeur d'Alene woman was sold as a newborn for $100 – one of possibly dozens of babies whose fates were orchestrated by Gertrude Pitkanen, a notorious Montana abortionist and midwife who arranged black market adoptions.
Few of those children had any clue as to who their birth parents were. Livergood, 68, also had little to go on. But she had a couple of hints, including her mother's name, Violet.
Through persistence, luck and the help of a genealogy sleuth, this year she tracked down her brothers in Utah. They are 66 and 72 years old, but she refers to them like they're still young farm kids growing up near the Great Salt Lake.
"Bless those boys' hearts, I mean, they were totally shocked when I called, of course," she said.
It took some time to persuade her older brother, Bob Sandberg, to submit a DNA sample to compare to hers. Naturally he was skeptical. No one in the family had ever breathed a word about a third child, a girl. His parents were long gone.
"I didn't know who she was – nothing about her," Sandberg said.
Livergood, who used to work at Coeur d'Alene High School and Woodland Middle School, sent him a 2002 article by The Spokesman-Review titled, "She was a steal: Black market babies keep Gertie's legacy alive." She had been profiled in other stories as well – on the TV show "Inside Edition" and in People Magazine – along with other women who had been delivered and sold by Pitkanen between 1933 and 1957. They call themselves Gertie's Babies and have collaborated in their efforts to track down their birth families.
Sandberg read about all this and changed his mind. "After I realized all the work that she had done, I went ahead and gave her the DNA sample," he said.
A little boy waits outside
Livergood was born in a motel room in Butte, on Feb. 9, 1946. Her adoptive father picked her up nine hours later. She still has the handwritten receipt acknowledging his $25 down payment with $75 due to Pitkanen within three weeks.
"You know, $100 was a lot of money back then," she said. "My dad sold donuts for a nickel apiece. That was a lot of donuts."
Butte's gambling parlors and red-light district thrived in those days. Pitkanen's services were available to prostitutes as well as other women in trouble. Somehow, Violet Weyland Sandberg ended up there that winter following the war. She lived in Granstville, Utah, about 40 miles west of Salt Lake City. But she traveled to Butte to give birth.
"We don't know how she got there," Livergood said. "Back in '46 that would have been a long trip, and she's pregnant. I don't know how she even found out about the place, to be honest with you."
But she thinks she knows why Violet left her home state and handed her baby over to strangers. "I think she got in trouble while he was at war."
Her husband, Evan Sandberg, was an Army Air Forces tail gunner in Saipan during World War II. He deployed in August 1944 and returned 15 months later in November 1945. When he got home, Violet was six months pregnant.
"I think she probably was in a hard spot," Livergood said. "I couldn't give up a child, but I don't blame her for that. And you know, things weren't very good when the war got out. People didn't have a lot of money."
Her mother wasn't alone in Butte. She and a man with her gave their names as Violet and Arthur Wilson, ages 25 and 33. The birth certificate says he was a truck driver from Seattle.
Livergood said her adoptive father never kept the truth from her. "He told me – and why he thought this, I do not know – he said, 'I do not believe that the man who was with your mom is your birth father.'  So it could have been Evan."
Her dad shared another tantalizing detail from the day she was born.
"He said there was a little boy outside that motel room," Livergood said. "He said, 'Whether he's your half-brother, full brother, I don't know. … You've got a brother out there.' And that just kind of drives you crazy."
DNA narrows the search
Her adoptive mother, who longed for a baby girl, died when Livergood was 3 years old. Her dad remarried and she grew up in Butte with four siblings.
"I was just lucky to be placed where I was," she said.
In 1971, when Livergood was married and pregnant with the first of their three children, she began to poke around looking for her birth parents. "I thought, I wonder what this child is going to look like," she said.
She got a copy of her birth certificate and sent off letters to a bunch of Arthur Wilsons in Seattle. Most never replied, and she gave up the search for a time. After her adoptive father died in 1980, she took it up again.
In the early 1990s she got a phone call from a woman in Montana – another of Gertie's Babies. There was a growing group of them and they invited Livergood to join their quest. She did.
But it wasn't until the proliferation of genealogical DNA testing and related websites that she finally hooked a solid lead. Livergood submitted a saliva sample to Ancestry.com to learn her ethnic origins and find family connections through DNA matches. That led her to a third cousin, Geraldine Rudloff, who lives near Sacramento, California.
"My more cynical relatives said, 'Beware, it could be a con,' but I didn't think so," Rudloff said. "I replied I would try to help."
Rudloff already had been tracing a family surname, Winegar, back some 300 years. Close cousins that she and Livergood shared were descended from the Winegar branch that migrated to Utah in the 1850s.
"However, they were a prolific bunch – there were countless possibilities," Rudloff said.
After months of digging through family trees, Livergood received a tip from a second cousin about a Violet who had lived in Utah and would have been her mother's age. Rudloff tracked down the obituaries for Violet, whose mother was a Winegar, and Evan Sandberg.
"It took her five months to narrow down to this family," Livergood said. "It was a lot of digging, and she did it."
Violet died in 2003 at age 83. Among her survivors were two sons, Bob and Gary. Bob was born in 1942. He would have been just shy of 4 years old when Livergood was born.
She pictured him waiting outside the motel room in Butte as their mother went into labor.
"I thought, it's got to be them."
'You're our sister'
Livergood approached her brother gingerly last spring. She wrote Sandberg asking about his father, Evan, and his time at war. He wrote back, sharing what few details he knew.
"My dad, he never did talk much about being in the service," he said.
She then called him and said she was looking for relatives and wondered if he'd send in a DNA sample. Sandberg agreed at first, then backed out on legal advice.
"I called him back. I thought, I've got nothing to lose," Livergood said. "So I said, 'Bob, the reason I want you to do that DNA test is I think your mom is my mom.' Well, that got his attention."
After reviewing news stories she sent him, Sandberg mailed in his saliva sample.
"When Bob's came back, his was 99 percent close relationship," Livergood said. "So then I knew I had the right family."
Sandberg was stunned that his mother gave up her daughter and never spoke of it.
"I didn't know how to take it," he said. "I didn't want to lose any respect for my mother, but maybe I did a little. It doesn't matter now, where she's been dead for quite a while. But it surprised me."
A follow-up test showed only a slight variation between half and full sibling relationship – results that stumped Livergood. She's pretty sure Evan Sandberg was not her father, given the period of his combat deployment and her date of birth. Perhaps her father was a close relative of his, she said.
"Both of the boys said their dad would never have given me up. So it makes sense that I'm not his," she said.
And in the end it didn't matter to Gary or Bob.
"I told them I think I'm just your half-sister," she said. "They said they really don't care, you're our sister."
She may never know why
Livergood and her husband Steve went to Utah in September to finally meet her long-lost family.
"It was just a weird feeling flying down there. I didn't know whether actually to throw up … It was just different," she said. "My girls both said, 'Oh Mom, you'll cry.' I didn't. … It's like meeting a total stranger. But they're really your half-brothers."
The brothers live in Grantsville, a town of just under 10,000 people, where their father was born and raised. Bob's children and grandchildren joined them for the reunion.
"I enjoyed it. I like her and her husband," Bob Sandberg said. "They're real nice people. We had a cookout."
Livergood added, "They didn't ask too much. They're pretty quiet people, which I'm not. That's never been a word to describe me."
Sandberg gave her copies of some family photos. In one, their mother stands outside a shop or café in 1941, with advertisements for Chesterfield Cigarettes and Coca-Cola in the windows. She is 21 years old and wearing a dark skirt and white cowboy boots with a steer head on the front. It may have been taken in her hometown of Erda, Utah, next door to Grantsville.
"She never got too far," Livergood said. "I know she waitressed for a while."
"It's just like a big old puzzle," she added. "The more I found out, the more I need to know. My daughter says, 'Mom, you already know so much, just let it be.' But I can't."
She knows she probably won't find answers to all her questions, especially about the choices her mother made.
"I guess what bothers me is after her husband died, why she didn't try and find me," Livergood said. "Because he was gone for quite a while. And why she never mentioned it even to her sons before she passed away? Don't you think she would have done that? But she didn't. … People back then, I tell you what, they could keep a good secret."
Pitkanen took her secrets to the grave in 1960. Trained as a nurse and chiropractor, she faced manslaughter charges in the deaths of three women whose abortions she botched. Each time the charges were dropped.
Over the years stories emerged of her delivering healthy babies, telling the mothers the infants had died, then selling the newborns. She kept and raised five children as her own, and would beat them, according to stories collected by Gertie's Babies.
"How fortunate I was to be put into a loving family," Livergood said. "You know how they do adoption now? You go through all this rigmarole and interviews. Not this lady. 'You've got the money? Here's your kid.' And she did that for 20 years."
This Christmas she is grateful for Rudloff's research skills, her brother Bob's trust and her newly expanded family.
"As the years grow I think the relationships will grow. And I'm just glad I found them when I did."
Local journalism is essential.
Give directly to The Spokesman-Review's Northwest Passages community forums series -- which helps to offset the costs of several reporter and editor positions at the newspaper -- by using the easy options below. Gifts processed in this system are not tax deductible, but are predominately used to help meet the local financial requirements needed to receive national matching-grant funds.
Subscribe now to get breaking news alerts in your email inbox
Get breaking news delivered to your inbox as it happens.
---